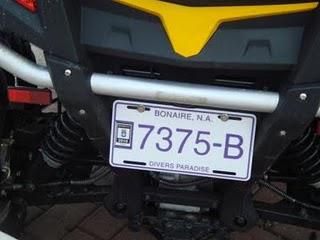 Photo: Raghav Modi
Travel is all about adventure and trying new things, so what better place and time to try snorkeling than on my first ever cruise and my first time around the Caribbean.Since my sister had done snorkeling before and was booking a seat during one of our stops, I decided to give it a try.
Two things had been keeping me from trying snorkeling till now. First and foremost the fact that I would have to wear my prescription glasses under the snorkeling gear which I believe would be quite uncomfortable. Secondly, and more importantly, breathing with my mouth for a considerable amount of time.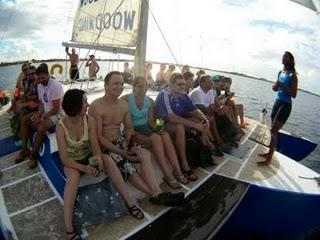 Photo: Zsuzsanna Pusztai (BonPhoto)
As we docked at Bonaire on our third day of the cruise, I along with my sister headed out to meet the representative of Woodwind Snorkel Sail. One of the points that stood out about Woodwind during our search was the fact that they run a guided snorkel. It's not just about taking you to a spot and dropping you off, but about trained and learned guides helping you and informing you about the underwater flora and fauna.
As we made our way to the 37 foot trimaran, my nerves were starting to act. Thankfully small diversions en route like the Tourist Tree and the beauty of Bonaire kept things at bay. I'm a decent swimmer and not afraid of water, so the ride to Klein Bonaire was actually fun.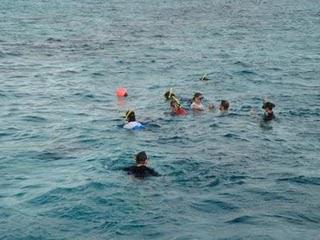 Photo: Raghav Modi
Things really started to look up during the tour to our drop point when Dee came up and explained the whole process reassuring first timers and the professionals alike that the entire trip is extremely safe, and it was. We found out that we will actually be doing "drift snorkeling" where we snorkel in a drift from point A to B making it easier for everyone. This also makes it easier to enjoy the undersea marvels rather than working out a sweat snorkeling. Furthermore, the spoiling also started. Drinks were served, keeping the food for after the snorkel. And… and to top it all Dee then mentioned something that literally made me jump off in the sea with joy. They had prescription snorkeling gear. Plus, this is where things get much better; they had prescription gear for someone like me who has -5.0 eyesight. Never did I expect that.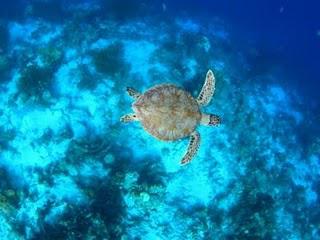 Photo: Zsuzsanna Pusztai (BonPhoto)
But all good things must come to an end. We reached our drop off point and were divided into three groups, each with a trained diver/guide. Being in the last group I was handed over the gear freshly dipped in soap water. Since there was time, I decided to try it out and nausea just took over me. I felt like throwing up and was thankful that I had had a very light breakfast. Tears rolled down (not crying) as my breakfast eggs tried their best to come up and appreciate the view. It seemed that I was going to have to sit and wait on the boat. It didn't help that a couple of people from the first two groups had returned as they were unable to snorkel for various reasons. But, I kept trying. Sat down, took a few deep breaths, and low and behold finally was able to start feeling better. Later I realized that it might have been the soapy water and that I had not waited for it to dry off. I came so close to missing out, it was not even funny.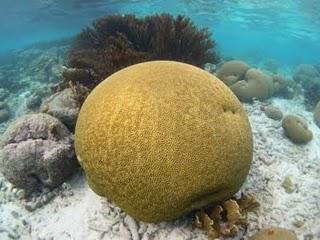 Photo: Zsuzsanna Pusztai (BonPhoto)
Anyhow, once I was in the water the beauty of the sea took over and I forgot everything else. As Dee free-dived time and again to point out the fishes, the turtles, and the barracuda as we drifted along. It was a good 40 odd minutes that not only made me a fan of snorkeling, but opened up a whole new world to me.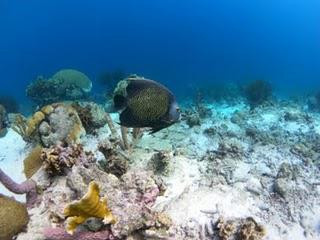 Photo: Zsuzsanna Pusztai (BonPhoto)
We also had Zsuzsanna Pusztai of BonPhoto with us who is a professional underwater photographer. I so recommend that you pick up the CD she makes of photographs featuring all the visitors at the end of the trip. She has been kind enough to let me use some of her photographs in the blog because I feel the beauty of Bonaire sea life can only get justice this way and not from my underwater photographs taken with a cheap camera.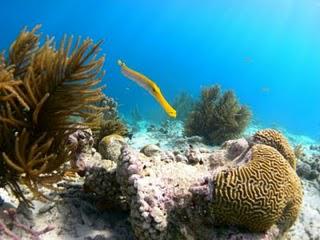 Photo: Zsuzsanna Pusztai (BonPhoto)
Our trip back to shore was filled with more drinks (they just kept asking if we wanted more), food, and stories of what we had seen. Woodwind is a company I would strongly recommend for anyone going to Bonaire. Not only was the entire trip well organized, but they literally spoil you so much that other guided tours will feel lame in comparison.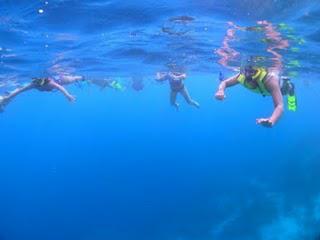 Photo: Zsuzsanna Pusztai (BonPhoto)
So those were my ups and downs of my first ever snorkeling experience. Exploring the wonderful island of Bonaire after the snorkel was the cherry on top. In fact one of my favourite prints "Sea Rust" is from Bonaire as well. I certainly hope that I get to snorkel and experience life below the sea level in the future.