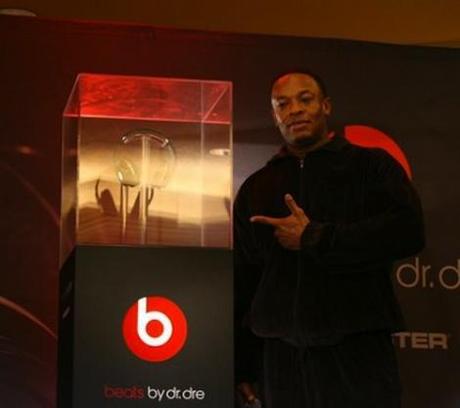 Dr. Dre's Beats by Dre headphone line has opened its first store in Lower Manhattan, on Greene Street. The grand opening was yesterday (November 2nd) with Jimmy Iovine, will.i.am and Dr. Dre himself in attendance. It's a pop store is opened until January 15th.
"The Beats store belongs downtown right now. It's got the right environment, the right feel with the cobblestone streets," Jimmy Iovine told The New York Post. "Beats is as much about fashion as it is about audio, we wanted to plug into a place that had quality and Luke [Wood] thought that we should try a place downtown." Beats Electronics President and COO Luke Wood also explained how Lower Manhattan fits the Beats by Dre Headphones store.
"Beats has a history, so doing it in SoHo — which has a history of being creative and on the edge — is where Beats should be," Wood explained to The New York Post. "We want [the customer] to understand the idea behind Beats, the emotion of sound, the feeling of sound, we want them to understand it's about the emotional art effect, it's like music, film, a comic book, Beats is cultural, it's relevant, it's realWe want people to learn about why it sounds that way, the narrative. It's really a way to tell our sound story."
The store will also sell the full line of Beats products including the Solo, Studio, Pro and Wireless versions of the headphones and other related merchandise.