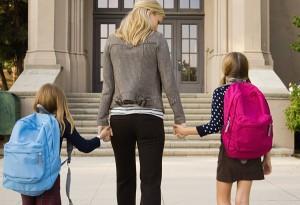 If you find yourself asking your seven-year-old daughter, "Does this outfit look cool?" stop everything you're doing and read this post.  Trust me, its for the good of the family. Because if you really want to make your daughter happy, a surefire way to do so is to get in good with the other moms at the beginning of the school year. What's that you say? You're a grown-up and no longer have to abide by the arbitrary rules of the schoolyard that dictate what constitutes as fashionable? Perhaps.  But you still want to get your kid a playdate with whoever happens to be her best friend of the week and somehow that's just a little easier if you make a halfway decent impression on that friend's mom, ie. not showing up to drop-off in your pajamas.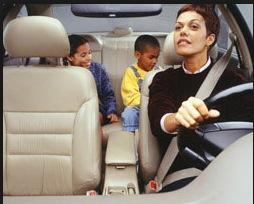 So…what are the rules for moms on the first day of school? I imagine it varies widely depending on school, neighborhood and general community culture.  My daughter attends a public elementary school here in NYC and the dress code revolves around where you fall on the great mom divide: Stay at home vs work outside the house.  But one thing is universal: clean, well-fitting clothes and brushed hair go a long way in gaining confidence in other moms' eyes.  Yes, hair counts.  I would never go so far as to say your hair has to look blown out, or even blow dried, to be presentable, but brushed is always a step in the right direction.  Which reminds me of a lovely little encounter I had this past winter with a good mom friend.  It had been a hectic morning and, in an attempt to entice my first-grader to brush her hair, I told her she could style mine.  She happily did and I quickly reciprocated with a pony tail for her and off we traipsed the five blocks to school.  At school, my mom friend greeted me with, "What happened to you? You look like you just woke up." Ouch.  I'm guessing my daughter is not quite ready for Tabitha to visit her salon.
To recap: no pajamas and brush your hair.  Personal hygiene aside, here are some cute looks that might not win over your kids but will be sure to leave the right impression on those moms you are eyeing in the cafeteria.  And, for extra credit, you can always find some glittery jewelry that might even satisfy the kids need for bling at 8:00 in the morning.
First Day of School Style
Look #1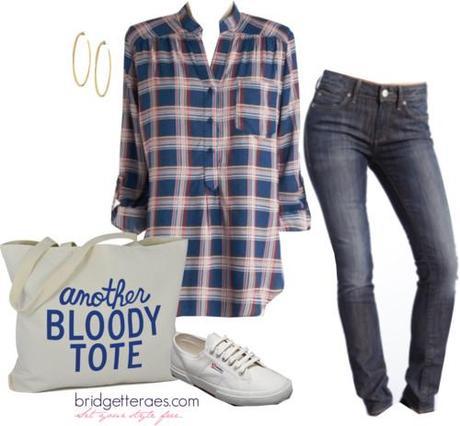 Plaid will be very trendy this fall.  Get a leg up on all the other moms by being on-trend with this relaxed plaid top from Modcloth, paired with a simple pair of skinny jeans from Brooklyn Industries.  If you're running late for the bus, a pair of sneakers, like these available at Superga-usa.com, will buy you some time, and nothing will get the conversation going with the other moms like a funny tote, like this one from Fab.com.
Look #2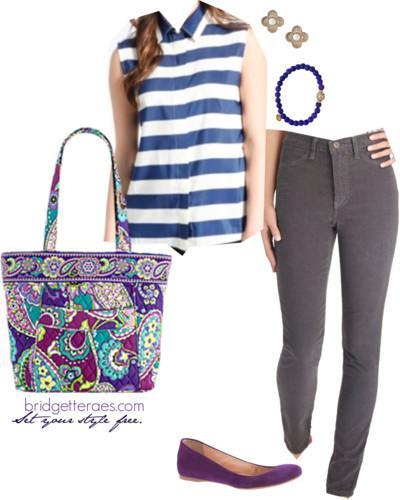 Being stylish on the first day of school does not mean you have to be uncomfortable or over-styled.  Playing with color and pattern is a great way to make your basic pieces look more interesting.  This cobalt blue striped sleeveless top from Brooklyn Industries and gray pants from Modcloth get a punch of interest with this pair of purple ballerina flats from J. Crew, a  printed Vera Bradley bag, purple bracelet by Blu Bijoux and playful Banana Republic earrings.
Look #3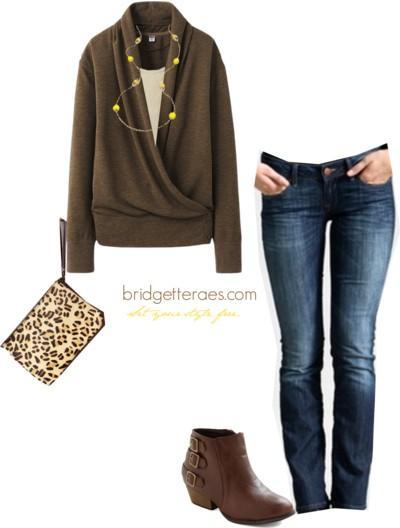 If you are feeling ready to break out a true fall look nothing is easier than a cardigan and pair of jeans.  However, to stand out amongst the other moms, there are few simple things you can do that won't take any time away from your lunch making or permission slip signing duties.  This simple cardigan and tank, both from Uniqlo, and Brooklyn Industries jeans outfit will get you an A++ for style when you pair it with these simple booties from Modcloth and yellow necklace from Blu Bijoux.  Lastly, if you're a mom who doesn't need to lug a large bag with you when taking the kids to school, check out how this simple leopard wallet clutch from Boden adds some no-fuss interest to the overall outfit.
Look #4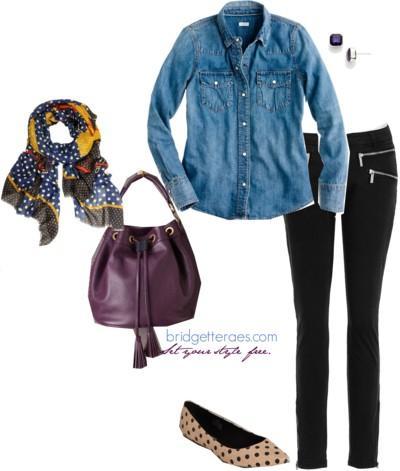 A denim shirt, like this one from J. Crew, goes with everything, which is great if you're a mom because lord knows you don't have time for complicated outfits.  Paired with a pair of black twill jeggings from Lord & Taylor, this basic outfit looks way more complicated than it actually is when a pair of Anthropologie polka-dot flats, a plum colored handbag, fun scarf and earrings are thrown into the mix.  Yes, this outfit may look like Algebra but it really is basic arithmetic.
Look #5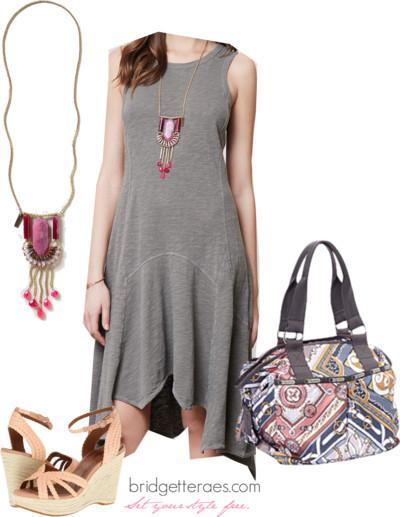 Dresses are an easy, one-step fashion solution.  It can't get much easier than the time it takes to slip a dress over your head.  To stand out in a basic frock, like this one from Anthropolgie, add some finishes, like this necklace, also from Anthropologie, a pair of blush Lucky Brand wedges and an indestructible LeSporsac tote.
Jessica Hendler is a contributing writer and editor for Bridgette Raes Style Expert's blog and is currently responsible for Friday's Fab Finds.  Have a Fab Find that you think we should feature, email Jessica at [email protected].


Repost This Article