This is the 90th world-famous FOTM Caption Contest!
Here's the pic: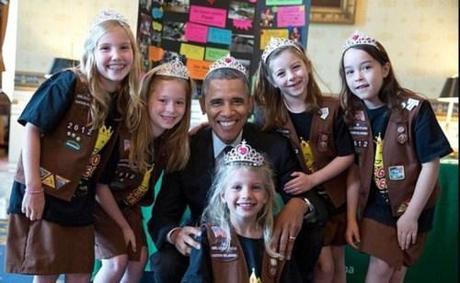 The pic above of the POS with a group of Girl Scouts from Tulsa, Oklahoma, had been taken in May of last year but was belatedly released 7 months later by chief White House photographer Pete Souza on Christmas Day — an interesting timing. (Source: ABC News)
You know the drill:
Enter the contest by submitting your caption as a comment on this thread (scroll down until you see the "LEAVE A REPLY" box), not via email or on Facebook.
The winner of the Caption Contest will get a gorgeous Award Certificate of Excellence and a year's free subscription to FOTM! 
FOTM writers will vote for the winner.
Any captions proffered by FOTM writers, no matter how brilliant (ha ha), will not be considered. 
To get the contest going, here's my caption:
"There is only one queen. Eat your hearts out, little princesses!"
This contest will be closed in a week, at the end of next Tuesday, Jan. 13, 2014.
For the winner of our last Caption Contest, click here!
~Eowyn