As I've mentioned, Gracie is a member of the February Club, which is a fun way of saying she has a few friends with birthdays in February. Having just completed the First Birthday Circuit, I feel qualified to share what I think are awesome first birthday gifts to give. I will note that most kids don't need anything so if you have someone you want to celebrate, donations to their college fund, your local children's hospital or Ronald McDonald House are all great ways to give them something that doesn't clutter up the living room. I also love giving experiences so my first suggestion would be a day pass or play pass to a local children's museum, zoo, playroom, or private playground. But if you want to give the wee one something to actually open, here goes. (Amazon links are affiliate)
These toys and books are all fairly gender neutral, or for the most part can be found in "neutral" colors – Gracie has very few "girl" toys and we are just fine with that. Princess days are sure to come.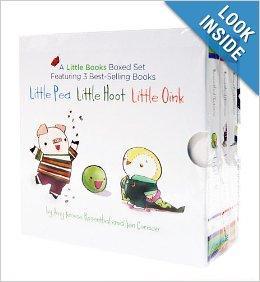 Books! I firmly believe every kid needs a full library. Classic choices include Sandra Boynton (her boxed sets are great, as her seven stories in one volumes) or Dr. Seuss. If you are shopping for a child that already has a robust library, I'd highly recommend the Little Pea/Little Hoot/Little Oink boxed set, or for parents with a devilish sense of humor, Jon Klassen's "hat" books are eyebrow raising and fun. If you are going a more sentimental route, anything by Nancy Tillman will make parents and grandparens smile with happiness. Textile books (with flaps/fabric/slides) are also popular around here, Gracie can't get enough of Dear Zoo and this version of Brown Bear Brown Bear.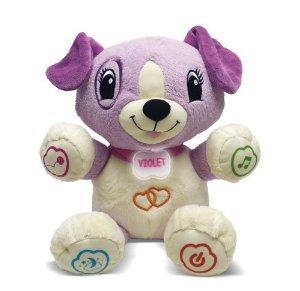 Leapfrog My Pal. Gracie was given a My Pal Violet, a little stuffed dog that comes with a USB cord so you can input your child's name, favorite songs, food, color, and animal. The end result is a little dog that sings and talks to your child, often interjecting his or her favorite items. Gracie can't get enough of Violet.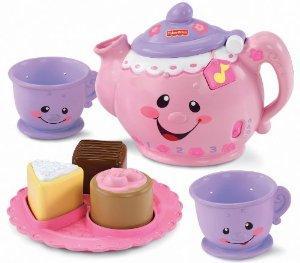 Fisher Price Tea Set. This only comes in pink (in case you think that makes it a girly toy) but this set is fun for girls and boys. The songs are not too annoying, and we have a lot of tea parties. Bonus: the tea pot has very nice manners and uses please and thank you liberally. Double bonus: the tea pot has an off switch.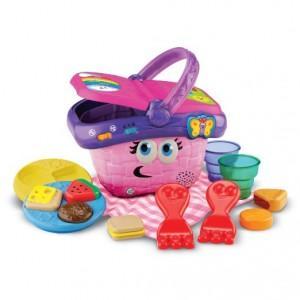 Leapfrog Picnic Set. This picnic basket comes in pink or purple (uh, what is wrong with "netural" colors?) and we've had a lot of fun with it. We often hold joint tea parties and picnic, and this set lovingly comes with volume control and an off switch.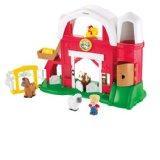 Fisher Price Little People Farm. After Gracie's Little People nativity was packed up with the Christmas decorations, she totally missed playing with the animals. The farm has filled the void and she loves that the barn doors make sounds. The farm has an off switch (yay!) but no volume control (boo, it is really loud). We plan on getting her some addition packs as well- perhaps a tractor and some more animals.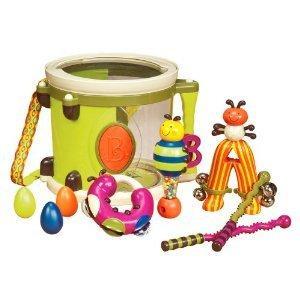 B. Parum Pum Pum Drum. This drum has been a hit at our house and many of Gracie's friends. B toys are generally awesome- their packaging is nice, their materials are non-toxic, and their toys seem to really please the kids. Tip: you can find a lot of B toys at Target for much better prices than online or traditional toy stores. The drum stores all the other musical instruments inside, which makes for easy clean up (and we toss in other noisemakers we have as well to keep them contained).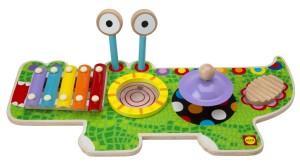 Alex Toys Play & Pretend Musical Gator. This wooden toy is not nearly as loud as I anticiapted and Gracie promptly mastered the art of cymbal crashing. I love wooden toys and she loves playing with it so…win!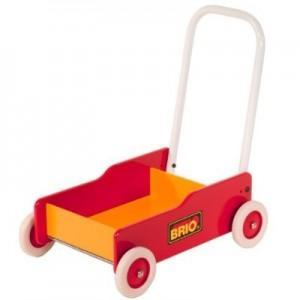 Brio Toddler Wobble. A wooden push cart that Gracie got for Christmas is a total favorite around here – she loves filling it up, pushing it, pulling it and playing with it. I like that it isn't plastic and rolls well on our hardwood floors (a popular complaint for other brands of walkers). It isn't as stable as a "tripod" style but I still recommend it.
(Amazon links are affiliate)