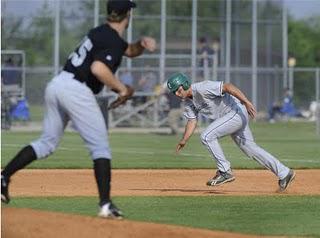 A lot has to go right for the defense for the "first move"
play to be successfully defended against.
When a left handed pitcher has a great move to first base, many base runners will be told to run on first move.  The runner will take a normal (or longer) lead and take off as soon as the pitcher lifts his foot after coming set.  The runner is gambling that he will be able to sprint to second base faster than the ball will get there.  If the pitcher's move is fairly slow, it's a pretty good gamble since the defense has to complete five things to get the out.  They will have to make an accurate throw to first base, a quick catch and throw transition by the 1st baseman, another accurate throw to 2nd base, a catch, and a tag.  All before the runner gets there.  Not that easy to do.
Here is one tip for the first baseman to make that play a bit easier.  As soon as a first baseman recognizes that the runner has taken off on first move, he should move quickly towards the pitcher and not wait for the pick-off throw to reach first base.  In essence, he goes to the ball instead of waiting for the ball to come to him.  This accomplishes two important things: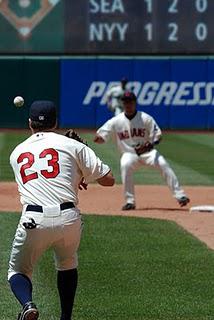 When the 1st baseman moves to the ball,
the runner will never be in line with the throw
It allows the first baseman to catch the ball sooner than if he waited for the ball to reach first base.  Of course, the sooner he catches the ball the sooner he can turn and throw to second base to beat the runner.

It changes the angle of the first baseman's throw more to his advantage.  If a first baseman waited for the throw to come to him instead of moving towards the throw,  he would catch the throw, turn towards second base, and find that the runner is now in between him and the shortstop who is covering second base.  This makes for a difficult throw.  If the throw does not hit the runner, it most likely will have to be to the left, right, or over the runner (and sometimes over the shortstop!) increasing the likelihood that the runner will be safe.  However, if the first baseman immediately moves towards the pitcher he will catch the ball on the infield grass and have a clear angle to second base in which to throw.
Put the two points together and the "go on first move" is less likely to be successful for the offense.