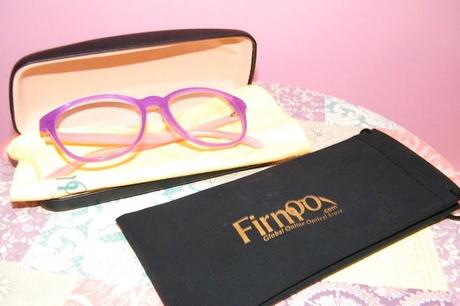 Glasses* - c/o Firmoo
Firmoo
are a 'Global online optical store' that specialize in cheap yet stylish eye wear. I was contacted by them a couple of weeks ago and asked if I'd be interested in trying out one of their latest styles. Scrolling through their pages and pages of glasses, a lot of pairs really stood out to me. After debating whether I should go with a staple black pair or try something different, I picked this cute lilac and pink pair, which is the style 
'FZL028'
. They retail at £22.77 which is pretty darn good!
Firmoo sell both prescription and non-prescription glasses; Meaning anyone can buy them, including people who are fortunate enough to not have sight problems like me. I decided to wear them to work on Sunday to give them a test run and I can honestly say that they were brilliant. They felt really comfortable on and didn't rub against the backs of my ears like some glasses often do. The lenses were perfectly clear and arrived with no scratches or marks on them. Not only was the actual product good, but the service was excellent too. They arrived much sooner than expected and enclosed in my package was a hard case with a lens cleaner and a soft case for easy travel/handbag purposes! Even though I won't be wearing these glasses all the time, they'll be brilliant if I ever need to spruce an all black outfit up (like I did with my work uniform). Firmoo are offering a
'First pair free'
service for new customers, so make sure check them out. Here's a picture of me wearing my new 'gegs. Please excuse the silly photo and my face/hair. I've been up since 6 for work this morning which has sent me slightly crazy...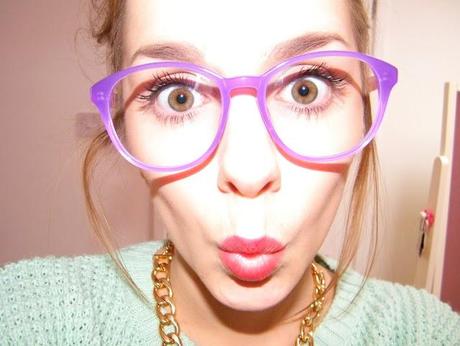 What are your thoughts on 'fashion glasses'? Do you stick to staple or dare to be different? Let me know, thanks for reading!
Megan xxx
Facebook 
 - 
Twitter
 - Instagram - 
Bloglovin