---
---
Evesham Township Fire District No.1 (NJ) is accepting apps for FIREFIGHTER / EMT Until: April 17, 2017.    For details about thousands of other fire departments looking to hire firefighters Join FireCareers.com today…  Fill out your PROFILE and get access to thousands of career firefighter recruitment's across the Country.  FREE 7 Day Pass
---
---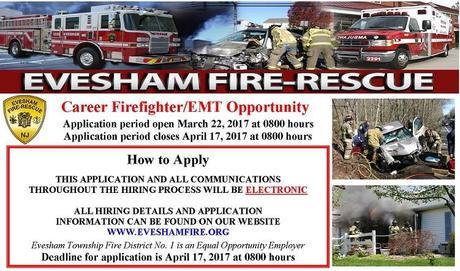 Evesham Township Fire District No.1 (NJ)
is accepting applications for:
FIREFIGHTER / EMT
---
---
2017 Career Firefighter/EMT Hiring Process
****READ THIS PAGE ENTIRELY BEFORE APPLYING, APPLICANTS MUST MEET MINIMUM REQUIREMENTS, PROOF WILL BE REQUIRED****
Providing Quality Fire and Emergency Medical Services to Evesham Township Residents and Visitors
If you meet the minimum eligibility requirements, we invite you to download an application:
Career Hiring Notice
Please share this career announcement on your social media feed or download the career hiring notice here.


Application period closes April 17, 2017 at 0800 hours
The Board of Fire Commissioners of Evesham Township Fire District No.1 is accepting applications for the position of Firefighter/EMT. Position entails assignments in fire prevention, fire suppression, and emergency medical services.
Applicants must possess the following minimum credentials in order to be eligible for consideration:
Be a citizen of the United States and a resident of the State of New Jersey at time of appointment
Be at least 21 and not older than 35 years of age at time of appointment
Have a high school diploma or equivalent
Must possess at least sixty (60) college credit hours (in accordance with N.J.S.A. 18A:3-15.2)
Be of good moral character and must not have been convicted of a criminal offense involving moral turpitude
Have at least two (2) years' experience as a firefighter and/or emergency medical technician
Possession of a valid New Jersey driver's license at time of appointment
Must be capable of being accepted into the New Jersey Police and Firemen's Pension System
Must possess a valid NJ Firefighter I Certification
Must possess a valid New Jersey Emergency Medical Technician EMT and CPR certification
Certification as a NJ Uniform Fire Code Inspector (within 1 year of appointment)
Certification as NJ Fire Instructor Level 1 (within 1 year of appointment)
DOWNLOAD APPLICATION HERE