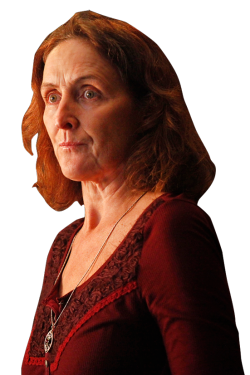 Credit: HBO
Fiona Shaw was interviewed by NYMAG.com!
In the interview, she opened up about being the villain this season, researching her role by attending Wiccan ceremonies, and rooting for Team Eric! Huh? Yes, you read it right! She's on Team Eric (as if we could blame her)!

Here are a few excerpts from the interview;
Were you a fan of the books or the show before you signed on for this?
Alan Ball discouraged me from reading the books, which I don't regret; I don't want to hanker for material I don't have. But when I started reading the scripts, and the first lot of Latin came my way, I knew there were challenges ahead! [Laughs.] And when we had the first read-through, and suddenly seeing all these vampires in person, that was very stunning. I had to adjust and remind myself that they're all just actors. Nan and Pam, they're my favorites. Both vampires, both very sour.

Even though Marnie is the villain of the season, she considers her actions justified.
Oh, they're very justified! She's just getting on, practicing her little religion, and in comes this big thug who says she can't practice it. What happened to democracy?

Although, if you're going to have a big thug come after you, who better than Alexander Skarsgard? Are you Team Eric?
I'll take him any day! [Laughs.] He's a very nice young man. How is Sookie supposed to choose between her two vampires? It's fantastically complicated.
You can read the rest of the interview

here

!
Thoughts? Share them below!