It's hard to believe only two weeks ago I had to try to convince people the World wasn't coming to an end and that AAPL wasn't going to $400 or lower.  
Now AAPL is a hot stock again and the markets are looking up, up, up – but now I'm skeptical that maybe the bounce is a bit overdone as we haven't actually resolved any of the things we were worried about just two weeks ago (other than AAPL being worth more than $400).  
In fact, we did call the turn right on the 16th in "Finally Friday – Maybe Tomorrow the Markets Won't Fall" and on Monday, the 19th, I wrote "Monday Market Momentum – Changing for the Better?", where we first began to target our weak and strong bounce lines.
Now here we are, two weeks later and we've hit all our bounce targets but we're worried it may be just a bit of window-dressing into the November close and we're certainly not going to get too enthusiastic until and unless we come out of the box next week holding our levels.  In fact, yesterday we added some very aggressive TZA hedges for weekend protection in our $25,000 Portfolio – just in case…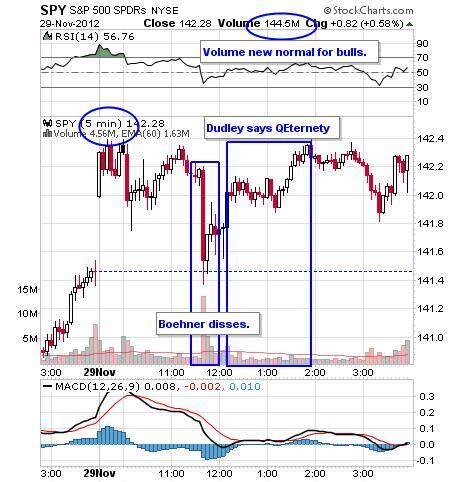 Yesterday's action was driven by commentary from Boehner, who tanked the markets by saying they were not making any progress on cliff talks but then it was saved anyway by Fed Speak from Dudley. who reiterated his known preference for QInfinity.   
As you can see from Dave Fry's SPY chart – we swung from the pre-market pop back to Wednesday's close (filling that gap) and then back to the highs on Dudley-speak.  It's a little tricky to trade a market that gets whipsawed up and down 1% depending on who last speaks so we've been mostly on the sidelines this week – hopefully next week we'll find a genuine trend worth playing with.  
Personal Income was flat while Personal Spending Fell 0.2% in October – possibly some blame can be laid at hurricane Sandy's feet but those are not good numbers. 
Europe is full of bad numbers but ECB President, Mario Draghi forecasts that the the Eurozone will probably start recovering from recession "in the second half of 2013." He also says that while "fiscal consolidation results in a short term economic contraction," the reforms are "inevitable" after years of wrong policies.  Of course, one may wonder how we suddenly know these new policies are "right" – but that's a problem for next year, I suppose. 
Eurozone Unemployment hit 11.7% in October – a new record but it very much depends on where you live over there as Spain's rate, for example, is 26.2% while Austria has just 4.3% of it's people out of work.  All this unemployment has been hitting even German Retail Sales, which fell 2.8% in October (and no hurricane there) and the latest Bloomberg Survey now shows EU investors betting even Germany slides into recession next year.  
Japan is in recession too and India is growing slower than expected and we all know about China's woes so, as I said – let's not get too carried away by this end-of-month rally – we need to see real progress on our Fiscal Cliff and several other fronts to get excited about doing more shopping. 
Have a great weekend, 
- Phil