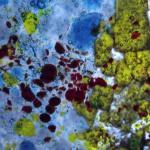 Did I say I was going to update this everyday of Devon Open Studios? Ha, ha! how over ambitious! Well, first things first, my frit experiment mentioned in the last post came out well, as you can see, and I am going to use this effect to represent the sunrise bouncing off the mountainside of my next commission.
My acid etched Islamic inspired panel is leaded up and waiting to be cemented and I have cut the glass for a new fish geometric panel, they are coming on nicely.
I have made a full size cartoon of my next mountain commission and I am just trying to position the sunrise so that is looks right AND allows me to cut the sky from one continuous piece of glass.
The customers came to collect their glamorous Art Deco door panel (hopefully it will fit into their front door like a glove)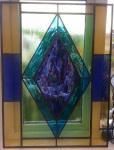 and no sooner had that panel left the studio than my next clients came in to discuss the design for the first panel for their new build home, the front door panel (then hopefully 4 window panels to follow).
I have had lots of other visitors, fellow glass artists, stained glass students, neighbours and friends. I have swapped some bunting and a bird cage for a  new hair do from my hairdresser friend and drank tea with ceramicist friend Cresta Glass and it has been a good few days.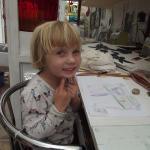 I had a resident artist with me today, who coloured me a lovely picture of my studio!
I filled the kiln with painted pieces of glass for flower garlands and bird cage panels to be sold at InsideOut and they will be fired tomorrow.
Oh and last, but not least, when I turned on the computer this morning I had a great email from stained glass news informing me I had won their panel of the month with my Boats on the River Teign Panel, which is was a lovely surprise and a great bit of advertising for my business, thank you very much!
There is still Friday and the weekend to come and see me, as you can tell, its a busy studio and a great chance to see an artist at work. Opening Times/directions   
This slideshow requires JavaScript.