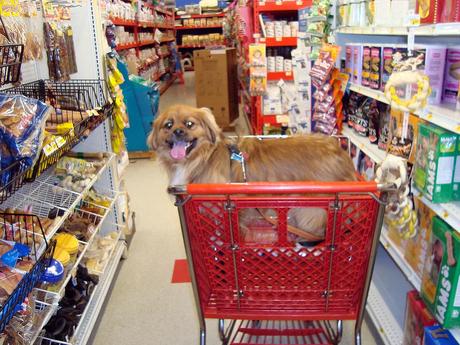 When you first bring home your dog or puppy, you of course want what is best for him. You have decided to include him as a new member of the family, and it's up to you to ensure that he has the best life possible, which means the right food and exercise.
Dogs can't speak, so they rely on you to make sure they stay healthy by taking them to the vet regularly for vaccinations and to treat any health conerns.
Vet treatment can be expensive, but if you give your dog the right start from the beginning, the cost can be reduced. Diet is one of the most important things for any dog, and Iams dog food range from Titmuss offers a complete diet for all the stages of your dog's life, from a puppy to their older years.
Puppies
Puppies are very similar to human babies in that they need the right nutrition. This is a growing stage for these babies, so giving them the right food from the start can ensure that they get all the right vitamins and minerals for healthy teeth, bones, and muscles.
You can find puppy food for all size dogs, from small dogs to large breeds. Each size requires different food and nutrition. Large dogs have more growing to do. Their bones are weaker as puppies, so they need a food that provides them with strength they will need later in life.
Adult dogs
Before you know it, your cute little puppy will grow to be a loving adult dog and a beloved member of your family. Again, the right food will make a difference in their health and energy level.
Buying a good quality dog food gives your adult dog the proper nutrients he needs to keep him healthy. Larger dogs have different nutrition needs than small lap dogs, but Iams has taken this into consideration, providing every size the right food and nutrition. You always know you are giving your dog the best food you can.
Senior dogs
As dogs age, their activity level decreases, and often their weight increases. They age a lot faster than humans do, but you can ensure they continue to get the nutrition they need for their senior years.
Choosing a dog food that is appropriate for your pooch's senior dogs is important. It must have reduced fat to avoid weight gain, and added nutrients for his later years.
Is your dog a little chubby?
Your dog might be a little lazy or might not get all the exercise he needs. This can result in weight gain. As with humans, added weight is not a healthy, and some dogs just seem to continue gaining weight as they age. This is particularly true with spayed female dogs. Certain breeds are also prone to gain weight, such as Labradors. In this case, it's important to find a lighter dog food, one that provides a completely balanced diet for overweight dogs, or those with low activity levels.
All dogs
When you welcome a new dog into your life, make sure he gets the right food, exercise, and care. This is the best you can do for your furry friend. The Iams dog food range from GJWTitmuss gives them a completely balanced diet for every stage of life, making sure they always have the best.
This is a guest post by Michelle Kuhl who blogs for GJWTitmuss about animal health and well being.