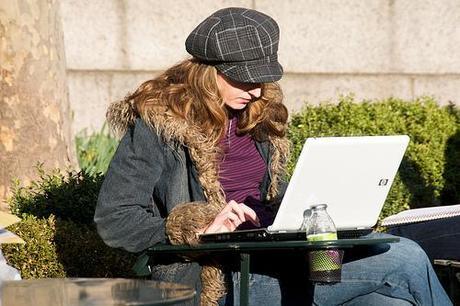 Computers and other information technology devices are said to use around $8 billion worth of energy in the United States each year. A "green" computer is one that is built to consume less energy, and therefore emit less carbon, than regular models. Many green computers are also manufactured in more environmentally conscious ways. Purchasing a green computer will help consumers reduce the amount of electricity they use, as well as preserve the environment. After realizing the benefits that green computers present, many consumers wonder how they can choose a more environmentally friendly option. Fortunately, it's surprisingly easy. Many manufacturers are choosing to produce energy efficient computers. Consumers simply need to know how to find them.
How to Find a "Green" Computer
When looking for an energy efficient computer, the easiest bit of advice is to avoid large desktop computers with huge Central Processing Units. On average, laptops consume one-fifth the energy of a desktop.Consumers that dislike laptops will want shop for more petite desktops. Manufacturers like Apple, Shuttle, and AOpen make smaller desktops that use less energy than other options. Also keep the size of the monitor in mind. A smaller monitor will require less energy. To ensure that you are choosing the "greenest" option, look for LCD monitors that pass the Energy Star rating criteria.
The US EPA Energy Star program is a program that carefully evaluates and rates electronics based on their energy efficiency. The Energy Star guidelines have recently been updated so that only 25% of the computers in the United States will earn a Energy Star badge. In the past, around 80% of all computers earned this stamp of approval. When shopping for a green computer, make sure to choose a product that has earned this badge. This says that the product is extremely energy efficient, even in sleep mode.
How to Avoid Computers Made with Hazardous Materials
The greenest computers are not only energy efficient, they also contain fewer hazardous materials. To find greener models, look for computers that have been approved by U.S. Environmental Protection Agency after being evaluated by the Electronic Product Environmental Assessment Tool, or EPEAT.
EPEAT gives computers a rating of Gold, Silver, and Bronze after evaluating them on 51 different aspects. If a computer earns a Gold rating, consumers can be sure that they are purchasing a computer that is environmentally friendly and contains little hazardous material. Choosing EPEAT approved computers will help to minimize the amount of toxic waste and conserve energy. For a list of approved computers, consumers can visit the EPEAT website for a comprehensive list of ratings.
Choosing a green computer does take more effort than simply walking into a store and choosing the first attractive model. However, the effort is well worth it. The more people willing to "go green," the greater the impact on the environment.
This article was written by Kelly Austin from HigherSalary.com. Visit her site for information about the average computer information systems salary and pay information for other popular careers.