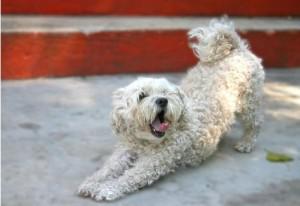 The holidays can be a stressful time for us, but it can also be a cause of stress for our pets. It's important to alleviate this stress by finding the right care for your dog. Since the options are plentiful these days, you might find some of these tips helpful.
Doggy day care
Whether you want to leave your dog in a daycare facility for a few hours or a few days, use the internet to search for a place in your location or in the location of where you're headed. Most websites have plenty of photos and descriptions, but the best way to get a feel for the place is to make an appointment to visit. If the day care is in your area, schedule a tour and bring your dog along. Check out the space your dog will occupy to make sure it is clean and provides enough entertainment to keep your dog happy. The staff of the facility should treat your dog as kindly and responsibly as you do, so keep an eye on him to see how he reacts and interacts with the staff.
Tour the space your dog will occupy. Ask to see all of the accommodations before you decide to leave your dog. Examine the grounds to see if they are up to your standards. If you wouldn't stay there, neither should your dog. Ask if you can bring some of your dog's personal items to help make his stay more comfortable. You don't want the hours or days your dog spends in the facility to feel like a punishment.
Doggy day care can get busy and your furry pal may not enjoy a crowd. Call each facility to ask how many dogs they expect to have when your dog will be staying there. Try to visit when the day care center is full. Watch how the dogs interact, and if anything bad happens, such as a dog quarrel, see how the staff reacts. You want to make sure that any issues that come up will be dealt with swiftly and effectively. Many doggy day cares separate dogs according to weight. If dogs of every size are allowed to mingle freely, make sure there are plenty of people to monitor them.
Some day care and boarding centers will even pick up your dog when you leave, and deliver him when you get home.
Dog walkers
If your dog can stay home alone for awhile, finding a dog walker might be just the thing.  Although this might seem easier than leaving your dog at a care center, it might take a bit more preparation. To your pup, a dog walker can feel like an intruder. Give him plenty of time to become comfortable with the walker you choose. He should spend enough time with his new companion to begin to obey some simple commands. Watch your dog interact with the walker, and if he tries to tell you he doesn't feel secure, listen to him. It isn't worth the risk to your dog or to the walker to leave either one uncomfortable.
Find a dog walker who takes the time to ask questions about your dog's needs. Discuss your dog's socialization skills and patterns with the walker so he or she is prepared if and when another dog comes by. Ask how many other dogs will be walked with yours, and whether large and small dogs will be walked together. The more information you provide the walker, the safer your dog's experience will be.
Leave your dog without worry
Nothing comes before the comfort and happiness of your dog. Any changes to his environment and routine can make him feel uncomfortable and nervous, or in the right situation, he can feel safe and secure when you leave. Take some time to find the best way to keep you and your dog worry-free so you can both relax and enjoy the festivities.