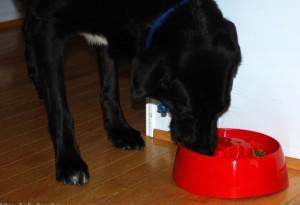 Finding the right dog food for your pup can be a puzzle. And, not spending a fortune can be one of
your greatest considerations. Dog food companies tell you that if you don't feed your dog the right food, you don't love your dog. Do you choose natural, organic, corn-free, or human-grade food? Just like feeding ourselves, it is hard to sort out which food is best for your dog. Choosing the right one can be one of the biggest factors in your dog's longevity and quality of life.
It's a bit of a challenge to figure out where to go to find good food that also doesn't break the bank. Do you find it at your local grocery store, a specialty pet store, or an online pet company? Today, buying your dog food online can give you an easy way to compare brands, ingredients, and prices. More and more consumers regularly order their pet food online, together with other various pet supplies, such as dog treats, toys, and accessories. Pet owners are finding online retailers to be far more accommodating than the local pet store, often offering a much wider selection of high quality items, as well as an easy way to get reliable information.
The two largest pet food and supplies online are Petsmart.com and Petco.com, with other leading pet-specific companies including PetFoodDirect.com, PetSupermarket.com, and PetsnMore.com. There are also many third-party online pet stores that specialize in natural, organic and holistic pet food products, including EarthlyPets.com, AllAmericanPet.net, PremierPetFoods.com and SitStay.com.

If you live in the U.K, G.J.W. Titmuss Ltd, a leading online pet-food supplier, offers you just the right solution to finding great-quality, cheap dog food. This family-owned company carries leading brands, such as Eukanuba, Pedigree, and Iams. Their website contains over 10,000 of some of the lowest prices found on the web. Along with dog food, you can also find many selections of dog treats and toys, supplements, and other essential doggy products online. Special offers are frequently available.
Purely from a cost perspective, it's a worthwhile to compare prices of online dog food and supplies. It's also very common to find many online pet food suppliers offering free shipping with a minimum purchase amount. Even with the cost of shipping, the savings can often be substantial.
Do your research, and don't be swayed by impressive-sounding dog food ingredients. Among the many factors to take into account, consider the overall commitment of each company to find the best quality dog food.