Having been a food fanatic all my life, it was inevitable that when I came to Buenos Aires to learn Spanish, I sought out the best places to eat for the least amount of money. In general, it is very easy to find affordable and nourishing food anywhere you go in Buenos Aires and the variety is great. At first I wasn't quite sure where to look in the city so I've compiled a short list of my favorite places that I hope you will love. Happy eating!
LAS CABRAS, Fitzroy 1795 Palermo Hollywood
It's a fantastically atmospheric parrilla-restaurant always filled with locals and well-informed foreigners that, has over the last 7 months become my favorite place to eat. It has a gorgeous outside seating area where the tables are so close together that it's so easy to start a friendly conversation with the people next to you.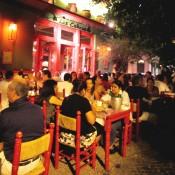 Outdoors at Las Cabras
Most of the time I order the Gran Bife Las Cabras to share with one other person. It comes with a huge piece of beef, fried eggs, chips, mashed pumpkin, rice, grilled pepper, onion and grilled provoleta cheese and for just 75 pesos ($US15 approx.) between two people, it's unbeatable in terms of value.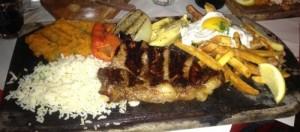 Gran Bife Las Cabras
It is quite a varied menú and despite that it is officially a parrilla (grill) restaurant, it offers many other options including quesadillas, salads, fish, soup and traditional Argentine tarts and stews. It's just a beautiful place to enjoy the fresh air and really delicious and satisfying food!
CHAN CHAN, Hipólito Yrigoyen 1390 Microcentro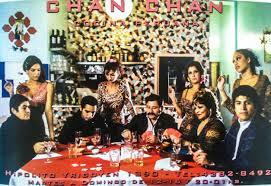 Chan Chan
It's a wonderful little Peruvian restaurant in the center that is actually extremely well-known amongst all here. Because of the lines, either go early at 8pm or later around 10:30pm. Having fell in love with ceviche and other specialties in Peru a couple of years ago, I was delighted to find such a cheap place to enjoy these things again! Peruvian resturants are quite common already in Buenos Aires, however generally are quite upmarket places with prices to match. Chan Chan is an exception, serving the freshest of seafood, mouth-watering slow-cooked meat, saucy stir-fries, fragrant soups and much more.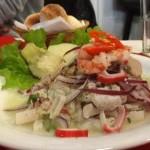 Ceviche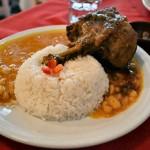 Slow-cooked beef
When I go to eat, I usually don't spend more than 50 pesos ($US13 approx.) which includes a drink. Another noisy and fun local experience to have while in Buenos Aires!
SINIOR SHAWARMA, Honduras 5328 Palermo Soho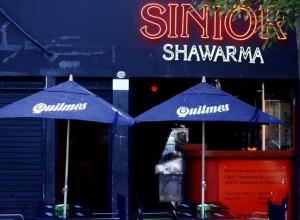 Sinior Shawarma
A fantastic place to enjoy a kebab and other specialties like falafel, borek and baklava, Sinior Shawarma is conveniently located across the road from the popular Kika nightclub. As spicy food is a little difficult to come across in Buenos Aires, it's such a treat to be able to ask for hot sauce with whatever you like. Yummy and affordable meal deals are available for instance, a kebab with your choice of filling, papas fritas (the best!) and a beer is just 45 pesos ($US11 approx.)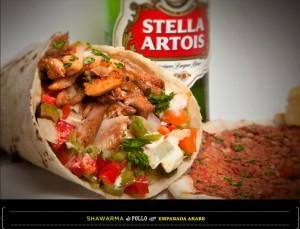 Kebab Combo
A really friendly and unpretentious place, it's likely to satisfy your need for some spicy flavours and can also be a great recovery after a big night out.
SARKIS, Thames 1101 Palermo/Villa Crespo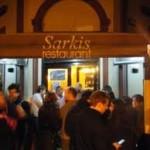 A waiting line on any given night
A restaurant that I hardly ever avoid mentioning in my blogs, this place is simply incredible. It's a perfect place to go as a group as the flavoursome Armenian dishes are best to share-just because you will want to taste as much as possible.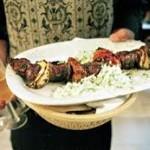 Sarkis
When we go we always order the jambra (delicious red pepper dip), pure de garbanzos (hummus), a mountain of pita bread, the falafel dish that comes with a tasty creamy sauce and salad, tabouleh, feta cheese, at least one porción of the cordero al fierrito completo (grilled lamb and vegetables with a generous porción of natural yogurt) and numerous bottles of wine. For all of this I have never paid more than 115 pesos including tip ($US28 approx.) and it guarantees a full belly until the following day.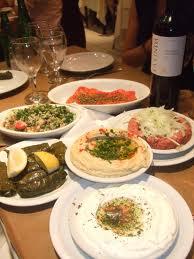 Feast time
EL BELICHO, Salta 11, corner of Rivadavia, Microcentro
This is one of those very many classic Argentine café/restaurant places with very simple decor. If you were to walk past, you probably wouldn't think much of it. However, it's quite common I guess anywhere in the world that the simplest of places attract weekly customers and dish up some very good meals. Nothing on the menú is over 40 pesos ($US10 approx.) and everything that is typically Argentine is served. Try one of the eight milanesa options, pasta, stew or of course, something from the grill section. Popular choices from the grill are various cuts of chicken, chorizo sausage or beef. The ½ porción bife de chorizo (sirloin rump) con guarnición is my favorite.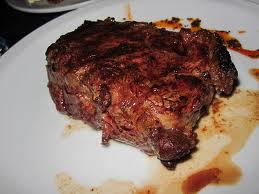 Bife de Chorizo
Don't asume that you'll need the full porción-the half is huge! For just 35 pesos you can choose to have anything from the grill with either mashed potatoes, fried potato or salad. Before the meals come they always provide a bread basket with the most delicious criolla sauce-just try not to fill up on this!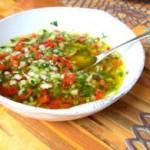 Salsa Criolla
AUTOSERVICIO RESTAURANTES
This option is your most economical and healthy one. These self-serve restaurants are in abundance in Buenos Aires, particularly in the center where during the week, are bursting at the seams with workers from nearby offices. They serve dozens of salads, fruits and hot meals including stews, curries, stir fries and meat.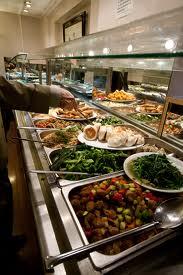 Autoservicio
How they work is that you simply grab a container to take away or a plate if there is room to eat in the restaurant, then simply load it up with food of your choice and in the end, you pay for the weight of the food. My favorite self-service restaurant in the center is on Diagonal Norte 1126 (and apparently without a name) where they have an incredible range of veggie options and the freshest produce. Another great place is Spring Restaurant on Guetemala 4450 in Palermo Soho. It's slightly more expensive than other establishments of its' type as the actual restaurant is quite lovely and inviting. Many people feel that when they visit Buenos Aires, it's a mission to find a place that serves green vegetables with their meal so this is a great option for when fresh vegetables are needed!
Enjoy these recommendations and explore more great options in BsAs!