As time goes by and I'm evolving in my blogging, I find myself drawn to art ministry.  My husband and I recently started attending a new church that we are incredibly comfortable with and we are excited to be taking this journey together.  Looking at the wonderful programs available at church, I began to wonder if there were any type of art ministries, and if so, how to get one started.  Being extremely new to this, I wasn't sure where to start.  I love to do research, so I decided my first step was to see if any historical artists were involved in a form of art ministry.
To my surprise, I discovered that Vincent Van Gogh had a strong desire to enter the ministry.  Vincent Van Gogh had a tortured soul and was described to have been sad, yet cheerful.  He often turned to scripture and secretly wanted to be a clergyman like his father.  At one point in his career, Van Gogh became a preacher's assistant and was exposed to the extreme poverty of the parishioners.  This exposure inspired him to live in destitute as well. His plan was to study theology and he spent much of his time translating biblical passages into English, French and German.  He was able to fulfill this plan for a short time and attended University Theology for fifteen months. Unfortunately he failed the courses and made the choice to return to poverty.
Van Gogh made a move to Belgium to live among the mining community.  He taught them the Bible and, at his own expense, cared for them. He would also frequently sleep on the floor and give his bed to a poor person.  Eventually he became a preacher in this community.  What I find interesting and unfortunate is that the church forced his resignation because of his acts of charity.  I can't even imagine how dejected this made him feel.
In a letter to his brother, Van Gogh said:
" Even in that deep misery, I felt my energy revive, and I said to myself, in spite of everything I shall rise again: I will take up my pencil, which I had forsaken in my discouragement,and I will go on with my drawing.  From that moment, everything has seemed transformed for me." 
He is also known to have said:
" But I always think the best way to know God is to love many things."
Art then became his way of religious expression.  Instead of the usual religious paintings of Mary, Jesus and churches - Van Gogh painted what he saw in front of him to be symbolic of religion.  He frequently painted sowers in a field, impoverished people sharing food and beautiful landscapes to showcase God's grace.  As an art major, I took numerous art history and art appreciation courses.  I pride myself on the ability to retain a large amount of knowledge - and I do not recall ever learning this portion of Van Gogh's history in any of my classes.  How interesting that as art major's we focused strictly on the work of the artist and none of the background history that clearly held significant importance to what the artist chose to represent.
As a painter, I have always found myself drawn to painting landscapes.  I absolutely love to paint the sky and trees - as they are forever changing in color and appearance. Below are some of my favorite works by Van Gogh; the paintings say so much about the beauty that surrounds us daily.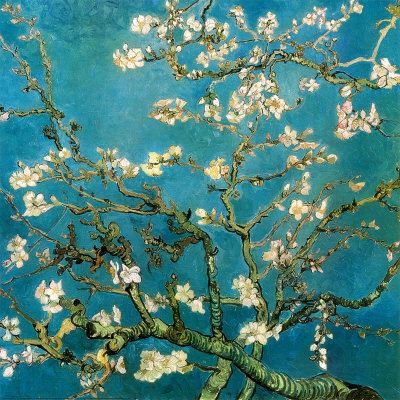 Almond Branches in Bloom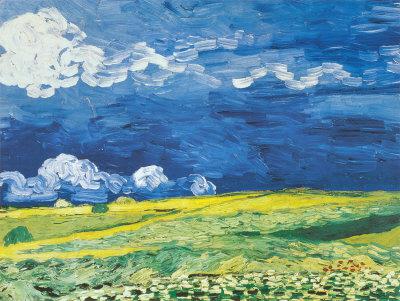 Wheatfield Under a Cloudy Sky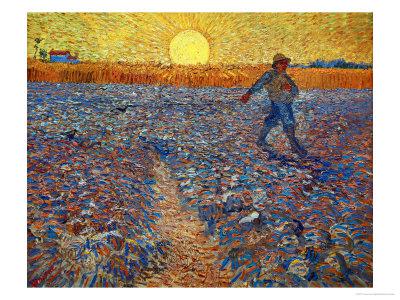 The Sower
Enjoy the day!