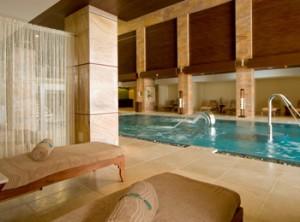 Deep Tissue Massage. Mud wrap. Spa rejuvenation.
Those words alone have the power to conjure up feelings of serenity and send you right into a state of meditation. And since we're big proponents of living a healthy life, we're going to tell you about one of the Internet's most relaxing hidden gems for travelers: SpaFinder.com.  
Similar to the travel site Expedia.com, which connects people with hotels, popular destination spots, and local activities needed for planning a vacation, SpaFinder allows users to exclusively search for spas and wellness centers around the world.
Looking for a Pilates center in Europe or a gym outside of Rome? Or maybe you just want to plan a spa-getaway for a week in Greece. Whatever you're looking for, a quick search on the easy-to-navigate website is all it takes.
At SpaFinder, you can either search by location or by one of the various wellness centers, which includes day spas, medi-spas, family spas, weight loss spas, salons, and centers for yoga, Pilates, and general fitness. Once you've picked one from your search specifications, you'll see a standard overview about the spa (including their hours, address, and contact information), as well as a list of services they provide. You can also check out reviews, post some yourself, and find information about staff, if available. If you're looking for deals and specials, check to see if that place currently has any, or you can do a broader search under the "Travel Deals" tab from the Travel drop-down menu. 
Some centers might also give you the option to schedule a spa treatment or fitness class directly on the site, allowing you to view available services and book for the date of your choosing.
But what if you've never received a luxurious spa treatment before and aren't sure if it's right for you? If you're a fan of de-stressing, improving your overall health, relieving muscle soreness and body aches and restoring your mind, body, and soul, it probably is.
And although we're not into peer pressure here, just consider it. For the sake of your overall wellbeing, of course.