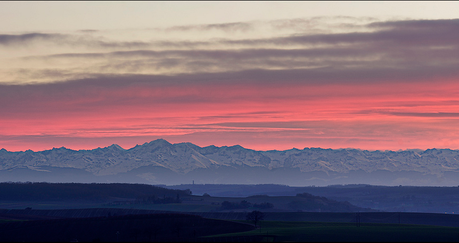 The Pyrénées, "un réservoir de beauté", by Pierre-Paul Feyte
Mrs C's New Life
This evening whilst I was sawing some wood for our evening fire and at the same time looking at the sunset on the French Pyrenees, it suddenly happened. This is it, my dream of a Good Life, finally there!
The majestic mountains, all pink and blue in the sunset, the cold crisp evening air after a beautiful warm spring day. It was not much really, just chopping a big oak branch we cut off a tree a few days ago that needed to be cut into smaller chunks to fit in the fire place.  
But that was it, with hands firmly gripping the oak branch, all covered in lichen and a beautiful bottle green
and gray colour, I was finally closer to Nature – far closer than I had ever been in the last 20? 25 years?
Tonight, when I was closing the shutters of my kids' bedrooms and putting them to bed, I saw our French friend Paul-Alexandre, who is a very busy corporate executive, come and pick up his 12-month old child from the child-minder at 7 pm. It made me realize that I could not live that busy corporate life anymore. I am not saying any more ever never never, but right now, this is not for me.
No more
power suits from lovely Italian labels that make a lovely thin waist and a terrible dent in the wallet and Harvey Nicks newsletter with more lovely dresses to get. Just a cotton skirt or a pair of dark blue jeans. No more high heels (and the back pain that goes with it) and no more carrying a so-called book bag to hide a pair of sports shoes for when running from meeting to meeting becomes impossible to manage in Louboutins. Just a really comfortable pair of dark green Hunters bought years ago when still dreaming the dream.
No more
macho bosses, even the female bosses are macho in the City. Just lovely neighbours who invite us to parties and to watch the 6 nations at home or share home-made cakes and biscuits. No more tossing and turning every night whilst worrying about work where I had to negotiate 300-page long commercial contracts and be an impossibly hard negotiator (the Iron Lady was the lovely nickname clients gave me).
Just
getting enough sleep so that we can go for a walk to town (6 km back and return), take the girls swimming and spend 2 hours gardening without feeling tired.
I could go on and on with the list of "
no more's
" and "
just's
". Now I am appreciating those long years of effort, saving every penny and planning every step we made.
Thinking, Planning, Money.....
The effort of our monthly financial reviews and planning have finally paid off....even if at the time I had to be dragged screaming to each financial review for our little tribe. I found that these reviews could sap what was left of my limited post work energy and.....
It is true that I have never enjoyed talking or even thinking about money, other than seeing is as a both a way to control people and a mean to travel to far away places. Two sides of the same coin, if you excuse the pun, which interested me but I never wanted to spend more time arranging my finances than was strictly necessary.
I was a passive saver and stayed away from debt. Also I have always liked to manage my pension funds and investments by choosing funds and monitoring their performance myself. But that's just because I have always seen myself as a feminist and never wanted to have to rely on a man for financial support. Hence I wanted to do "all" by myself, studies, career, travelling, and investing my savings. It is also down to not wanting any man to control my destiny, whether a boyfriend or a financial advisor.
Changing to an Early Financial Independence Mindset
I was set on the normal path, work util retirement in my 60's. I was happy with the returns on my savings and investments were generating. I could leave them on autopilot until later in life. I was a "don't touch if not broken" type of woman.But I was seeking a "way-out" out of the rat race, feeling it was not going to make me happy and that the sacrifices required to obtain the top managerial role would not be worth the results.
But change we did as a couple when we started putting our heads together to look at our finances. After all these years of planning for financial independence and creative freedom for our family these efforts are paying off. I did resent the monthly financial reviews a bit Mr C says "a lot") but they were to be done. How could we get to our dream if we sleep-walked all our life and not got our house in order?
And here we are in the south west of France! We work in our vegetable patch together every sunny day (i.e. almost every day). The girls are playing in the field full of daisies (paquerettes) and we all go for cycle rides on paths with views over the Pyrenees mountains.
Mrs C
Welcome New Readers! Please take a look around.Click here to find out more about THE.TriBe and the blog is or perhaps browse the all posts list, Please feel free to play with the planning tools and checklists. You can also follow the blog in the following ways:




Do you like this post if so please spare a few seconds to share it >>