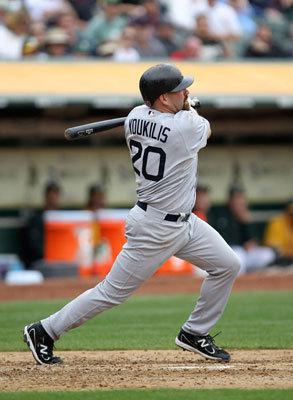 The Red Sox dropped their first seven games away from Fenway Park this season, but finally got a road win on Wednesday to conclude the series with the A's, 5-3.
The fearsome Jed Lowrie went deep again, and was joined by Kevin Youkilis and J.D. Drew in the home run department. Clay Buchholz allowed a leadoff shot to Coco Crisp, but that was it as Buchholz nailed down his first win of 2011. He struggled some, but hung tough and got the victory.
Daniel Bard came on and was sharp, but the combo of Bobby Jenks and Jonathan Papelbon got Terry Francona, and everyone else in Red Sox Nation, stomachs turning, allowing two runs in the last two innings, and the winning run came up with two outs for Oakland, but Cliff Pennington popped to short to end it.
Now the Sox are off to Anaheim for four. I was looking for a split in Oakland, and the Red Sox did that. They've now won 4 of the last 5.
I bet this story will make you

really

glad Frank McCourt was rebuffed in 2001 in his quest to buy the Red Sox. (Could you imagine how different recent Red Sox history would be had it happened? Or if the incompetent Dolans, owners of Madison Square Garden who also tried to buy the Red Sox back then, had gotten the team? Makes me appreciate Theo and The Trio all the more.)
And in something being reported as something new, but it's been known and debated on for years, documents recently released hint that the 1918 World Series may have been thrown by the Cubs. (Eddie Cicotte, the disgraced former Black Sox pitcher, named no names, and it sounds like much ado about nothing.)
The Red Sox have also started a web site for their upcoming 100th anniversary. It was 99 years ago on Wednesday the Sox played their first game at Fenway, beating New York in extra innings. So I guess it was an appropriate day to kick off the site.