We've given up most of the post QE3 gains and, so far, we're barely holding on to our strong bounce levels of Dow 13,494, S&P 1,457, Nasdaq 3,128, NYSE 8,264 and Russell 843.  As of last night, the S&P and the NYSE were still below and they need to now  hold their weak bounce levels to prove  this rally still has some legs.  
Weak bounce levels are: Dow 13,447, S&P 1,443, Nasdaq 3,104, NYSE 8,220 and Russell 838.  If we fail ANY of them, it will be time to hedge more bearish.  So far, the Futures seem to be erasing what little progress we made yesterday and we're back to the Thursday lows/Wednesday's close and that would not be a great way to finish up the week.
Europe turned us ugly as Egan-Jones downgrades Spain to CC (junk) and the Spanish 10-year notes run back up to 6.09% on rumors that a Moody's downgrade will soon follow.  Spain's rising debt rates have already wiped out all the austerity gains from yesterday's budget – highlighting the futility of austerity budgets.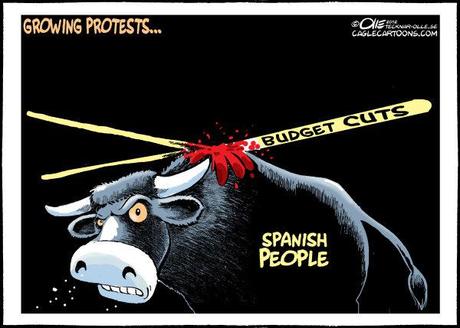 Spain had hoped that if banks could be recapitalized directly from the bail-out funds, it might avoid the humiliation of a full-scale sovereign bail-out and acceptance of a reform program imposed by the EU and the IMF.  
The original summit agreement also seemed to recognize that the banking crisis was separate from the sovereign fiscal crises and, in some sense, the responsibility of Europe as a whole.  In this way Spain might have avoided piling on further sovereign debt to rescue its banks. Spanish banks would be a collective, rather than a sovereign, responsibility.  
But it now appears that any money for bailing out Spanish banks must be part of a wider sovereign package with corresponding guarantees and conditions.  This reversal in position by the surplus nations of the North is being taken as an act of extreme bad faith, not just in Spain but in the troubled Eurozone periphery as a whole. Trust in European solidarity is being shattered.
We got figures for August Personal Income this morning – up just 0.1% for the second month in a row and that's far from keeping up with inflation.  Personal Spending was up 0.5% which means consumers are back to piling on more debt to keep up with the economy.  That's not helping the futures but It's hard to imagine that "THEY" want the quarter to end on a down note so it should be an interesting day.  
Last Friday we had bullish trade ideas for gold and silver and, interestingly enough, we're back to about the same levels now as we were at then after taking a dip and recovering – it's worth looking at those trades again as they make great inflation hedges.  
Have a great weekend, 
- Phil