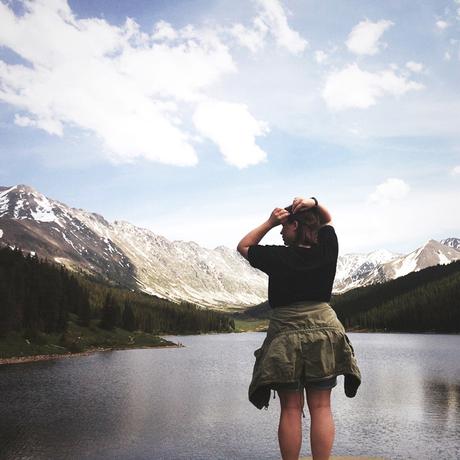 Pt. 

1 

//

 2

 // 

3 // 4 // 5 // 6 // 7 // 8 // 9 // 10


I've finally reached the last post in my cross-country move/ road trip series. It only took me six months to complete, but I honestly wish it would never end. This was one of my favorite trips, even though it had its ups and downs. My dad and I had a lot of fun together and were able to see and visit so many places. Our last experience was the drive from Colorado Springs to Salt Lake City. I made sure that we took the most scenic route because I wasn't ready for the adventure to end. Our route took us as high as 13,000 ft above sea level where we could feel the difference it was making in the car and I had trouble staying awake. But as we rounded a corner we came across this spectacular view and had to stop. This lake is right next to the highway and was the perfect place to stop and take in the mountain air.
When we crossed the border into Utah, the landscape switched from sky high peaks to painted rocks and tumbleweeds. With the trains set against the backdrop of plateau's I felt like we were in a western as we drove into the sunset. Before I knew it, we had arrived home, and while the experience was over, I had so many memories and adventures to add to my log book.