At this point, it's a binary event that will or will not get fixed by Monday.  Monday is the last day of the year and the markets are open so still plenty of time to get those last trades in.  Yesterday's down and up action was hysterical but just what we predicted in the morning post, when I said:
Be very careful out there as the markets are in no mood for thinking – they are simply reacting (or over-reacting) to whatever the latest rumor is out of Washington.  We should talk our levels seriously and hedge if we need to but cashy and cautious is the watch-word coming into the long weekend as this thing could go either way – sharply!
Our opening hedge in Member Chat was the DIA March $124 puts at $2.05, which topped out in the afternoon at $2.45 for a quick 19.5% gain but fell back to $2.23 at the close as the markets sharply recovered.  I still like those hedges if they get cheap again.  Also in the morning Member Chat, we discussed a more serious TZA hedge, as noted in yesterday's post.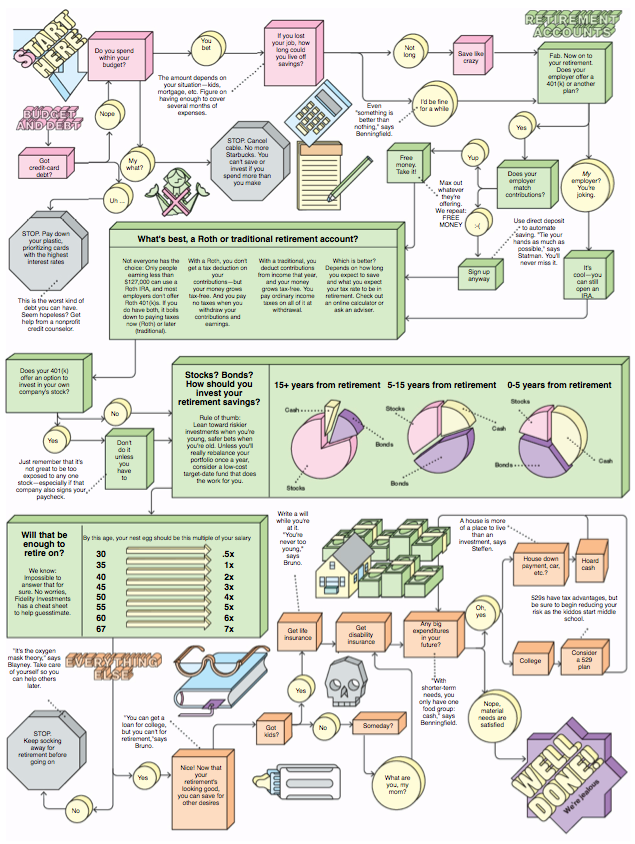 While 2012 was a very exciting year in the markets, we're hoping 2013 won't be so much so we can focus more on long-term investing.  As noted in this Financial Planning Flowchart from BusinessWeek, it's difficult to focus on what matters in the long-run when your head is always kept busy with day-to-day nonsense like worrying about Fiscal Cliffs and Retail Sales, etc.  
It happens to me too – if it's important to talk about the Fiscal Cliff, then that's what we talk about but that means we don't have time to talk about other important things like "7 Steps to Consistently Making 30-40% Annual Returns" – which is one of the many useful articles in our Education Archives.  When we had our PSW Conference in Las Vegas this November, most of what we talked about was long-range investing – not day-to-day trivia.  When people have a chance to get away from the madness of daily market moves, they are much better able to focus on their future.  That's why these conferences are so valuable.  
IN PROGRESS
This article will become free after 48 hours (see below for free content). To read the rest of this article now, along with Phil's live intra-day comments, live trading ideas, Phil's market calls, additional member comments, and other members-only features -
Subscribe to Phil's Stock World by clicking here
.