"A Girl Walks Home Alone at Night" is a black-and-white film, a vampire movie, a romantic movie and a whole lot more. It combines the narrative style of Quentin  Tarantino with the independent material of Tomas Alfredson – the beauty of two persons understanding each other without having to talk.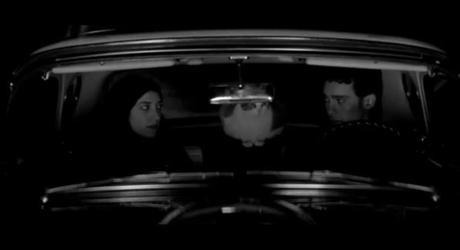 "A Girl Walks Home Alone at Night" is a movie by the American director Ana Lily Amirpour and is based on the Graphic Novel by the same name. The story takes place in the Iranian ghost town "Bad City" where a lonesome vampire haunts the streets. On the first sight she seems like a normal young woman and while watching her evil doings you will notice, that she probably is. She doesn't enjoy to kill people, that's why she tries to kill only the bad ones. There is a monoty to the whole process. Every night she walks the streets and she seems to be doing this for a long time, years – maybe decades. Her dynamic changes at last when she meets the young man Arash. He reminds her of a time when she still had hope, when she still had dreams that things could be different.
But all these things are not said in the movie, they are shown. The movie lives on its images and atmosphere. The director combines the extensive cinematic narrative of Quentin Taratinto with the abstract style of the "Persepolis"-Comics of Marjane Satrapi. There is this whole emptiness and the reek of death in the town of "Bad City". It's a no man's land where people talk Farsi but drive around in American old-timers. You get the feeling that people don't go there to live, they go there to die. But maybe not everybody. The girl and Arash have a connection through their loneliness, through the urge for leaving – and their love for music. They don't have to talk to understand each other, they just have to "be". With this narrative style I couldn't help but being reminded of the vampire movie "Let the Right One In" by Tomas Alfredson. After all loving another person means to accept them how they are. Flaws and all.
With all these details the film shows the cultural background of the director. Ana Lily Amirpour lives in the United States but her parents are from Iran. Also the movie is set in Iran but was shot in California. Maybe it can be interpretated as a criticism of society. The vampire girl hides herself under a black veil that looks more like a cape when she is walking (or rather skateboarding) the streets. As a woman she gets underestimated but in the end she has the power over the life of men. She is kind of a Nosferatur character – the queen of darkness, a vampire and a superhero rolled into one. The director herself said that the movie wasn't supposed to be feminist but a genre-variation. In her opinion vampires are observers of humanity and witnesses of technological change. They are lonely but romantic like in Jim Jarmusch's work "Only Lovers Left Alive".
Genre-variation? Mission accomplished. "A Girl Walks Home Alone at Night" is a vampire movie, a romantic movie, a western and a black-and-white film. Critics say that Ana Lily Amirpour may be the next Quentin Tarantino. I think she's better than that.