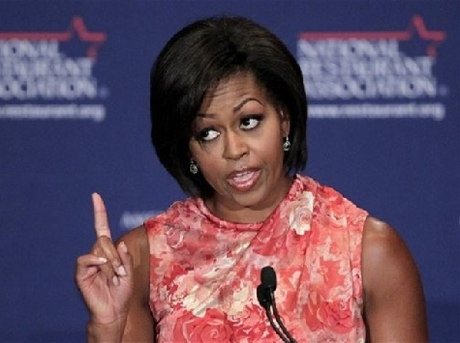 BREITBART
MICHELLE OBAMA LECTURES DEMS ABOUT SEPARATION OF POWERS
by TONY LEE
A day before the White House apologized to the Senate Intelligence Committee for not alerting Congress before trading five high-level terrorists for a captured American soldier, first lady Michelle Obama lectured donors about the separation of powers.
"Too often, we forget what we learned in civics class back in middle school, about how we have a separation of powers between three branches of government," she said on Monday at a Democratic Congressional Campaign Committee fundraiser in Boston.
The first lady claimed that, whenever people ask her why her husband cannot just "pass health care" or "get immigration reform done" or "hasn't just fixed infrastructure yet," she tells them, "you all know who has the final say on all of that, don't you? Who? Congress. You guys remember civics. It's Congress."
She may have to remind her husband, a former constitutional law lecturer, about that.
As Breitbart News reported, Rep. Buck McKeon (R-CA), the Chairman of the House Armed Services Committee, and Sen. James Inhofe (R-OK), the Ranking Member on the Senate Armed Services Committee, blasted Obama over the weekend for "clearly" violating "laws which require him to notify Congress thirty days before any transfer of terrorists from Guantanamo Bay and to explain how the threat posed by such terrorists has been substantially mitigated."
"Our joy at Sergeant Berghdal's release is tempered by the fact that President Obama chose to ignore the law, not to mention sound policy, to achieve it," they said. "Trading five senior Taliban leaders from detention in Guantanamo Bay for Berghdal's release may have consequences for the rest of our forces and all Americans. Our terrorist adversaries now have a strong incentive to capture Americans. That incentive will put our forces in Afghanistan and around the world at even greater risk."
The White House cited "unique and exigent circumstances" for not notifying Congress, but this is nowhere near the first time the White House has acted alone with complete disregard for Congress.
On immigration, the Obama administration has indicated it will act to unilaterally change immigration laws after already having done so in 2012 with the Deferred Action for Childhood Arrivals program. Obama instructed Homeland Security Secretary Jeh Johnson to delay the administration's deportation review, but Democrats have indicated that the Obama administration will act alone to ease deportations if amnesty legislation is not passed in six weeks. Last week, the Pentagon said it would allow some DREAMers to enroll in the military before announcing they would delay the implementation of the policy change.
Read whole story at: http://www.breitbart.com/Big-Government/2014/06/04/Michelle-Obama-Lectures-Dems-About-Separation-of-Powers-After-POTUS-Ignores-Congress-in-POW-Swap