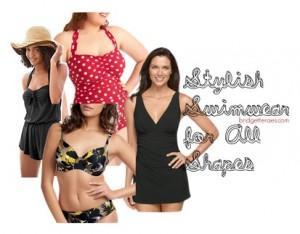 Everybody loves summer about as much as they hate shopping for bathing suits.  It's amazing how such widely enjoyed pastimes, like going to the beach or pool, comes with something so loathsome!  Finding figure flattering swimwear can be a chore and  and is easily one of the most disliked things for a woman to do.  A close second would probably be the necessary bikini wax that often follows.
Unfortunately, finding a bathing suit takes a lot of trial and error, tears, promises to never eat carbs again and dealing with wicked fluorescent lighting.  However with my figure flattering swimwear tips below my hope is that you can at least start out on the right foot.  Check out some standout brands and swimwear shapes for different body struggles.
Figure Flattering Swimwear for Tummies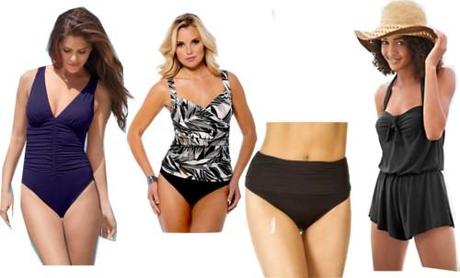 Swimwear for Tummies 
One of my all-time favorite swimwear brands for tummies is Miraclesuit.  Hands down, they know how to drape a swimsuit better than anyone, and their patented fabrics hold the tummy area beautifully.  As you already know, ruching a swimsuit like the swimsuit on the left, can be a woman's best friend, yet, there are a few other things they're currently doing for tummies that I really like.   First, I love their shirred bottom, that whittles away the waist while also slenderizing the hips and backside and can be worn with any tankini top.  It's just a little extra bonus support where women with tummies need it most.  On the right, I was also taken by this adorable romper suit, also by Magicsuit (a division of Miraclesuit), that seems perfect for the woman who has a slight tummy that she wants to hide.  There is a sportswear feel to this suit that can give you the ability to be poolside comfortably.
Figure Flattering Swimwear for Large Chests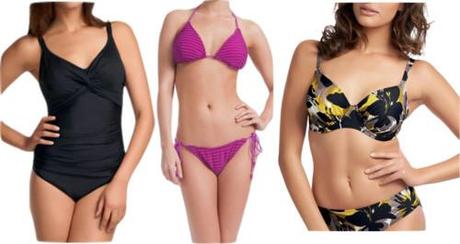 Swimwear for large busts 
Having a large chest I know that swimwear with generously sized cups is important.  Thankfully,  these days there are many brands who are offering bathing suits this way.  Considering a bathing suit is practically a bra, it's crazy to think how long it took for swimwear designers to come up with this solution.  The swimsuit on the left and the right are both by Fantasie and offer swimwear with bra cup sizes up to 40GG.  The swimsuit in the middle may be a surprising choice because any girl with large breasts know that suits like this often look like two postage stamps over the boobs and offer little to no coverage, however, for the moderately busted woman looking for something a little slinkier, Shoshanna's bathing suits offer cup sizes up to a DD.
Figure Flattering Swimwear for Large Hips and Thighs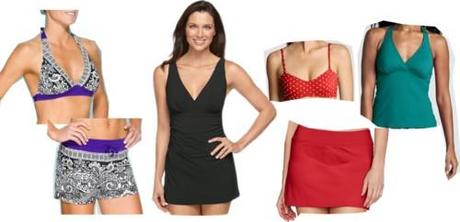 Swimwear for Large Thighs  
For large hips and thighs, I've never been a big fan on the flouncy the skirt suits that are often suggested for large-bottomed ladies.  Having more bulbous thighs, I always thought the flounce made my thighs look bigger, like I was one of the dancing elephants in the movie Fantasia.  Yet, designers are getting smarter and coming up with more figure flattering solutions, like a more streamlined A-shape and even athletic looking shorts as alternatives.  The suit on the left by Athleta looks more like gym shorts, offers more coverage and is great for water-sports.  I was particularly impressed by L.L.Bean's swimdress, pictured in the middle; it practically looks like a little black dress.  Lastly, Land's End does the swim skirt right with a slim a-shape that can be mixed and matched with their different bathing suit tops.  The great thing about this solution is that you can mix-and-match your swimwear and choose your coordinating pieces based on the water activities you have planned for the day.
Figure Flattering Swimwear for Plus Size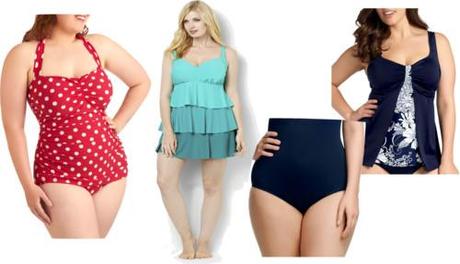 Plus Size Swimwear  
Contrary to what most people think, not all plus-size women are built equally; some gain weight in their tummies while others have slim waists and large hips and thighs.  A plus size woman needs to think of her body in the same way that a non-plus size woman does and consider what she wants to hide and what she wants to show off.  I chose three standout suits that cater to a variety of plus size figures.  First, on the left, for the plus size woman who has curves and a defined waist, I loved the way this retro suit from Modcloth played up the positive parts of the curvy girl.  In the middle, Catherine's offers a figure flattering solution for women who may want to cover up the tummy area with a tiered swimsuit that looks like a fun cover-up or dress.  Lastly, on the right, a brilliant solution by Elomi is this high-waisted bathing suit bottom that looks just like shapewear and does the same thing by giving extra control and reaching right up to the underband of the swim bra, providing a long, smooth line that is flattering under both close-fitting and flared tankinis.
Figure Flattering Swimwear for Mastectomies
Veronica Brett Swimwear 
For a very specific figure flattering swimwear need, I want to bring your attention to Veronica Brett Swimwear, created by Patricia Brett after finding out her family carries a genetic mutation that predisposes her to breast and ovarian cancer.  After losing many family members to cancer, Patricia made the decision to  cheat cancer and have a prophylactic bilateral mastectomy with reconstruction.   Veronica Brett is a luxury collection of swimwear fashioned especially for breast cancer survivors and women who have had risk-reducing mastectomies.
These figure-flattering swimsuits accentuate all of a woman's beautiful features. Interior pockets conceal a lightweight swim form as well as properly fit a reconstructed breast. The suits have been strategically designed to conceal surgical scars while still giving a semblance of cleavage.
Don't Forget to Cover Up!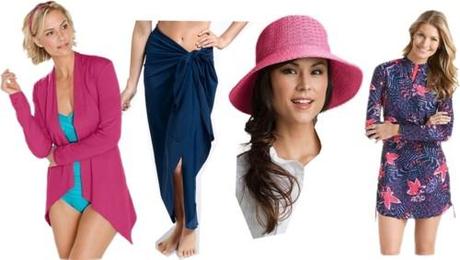 UPF 50 Summer Protection  
Before you hit the pool or beach wearing your figure flattering swimsuit, I want to remind you about sun protection.  Coolibar, my favorite UPF clothing company, offers sun protective products that allow people to enjoy life in the sun. They design, manufacture and market a range of quality sun protection products including sun protective clothes, SPF clothing, sun hats, sun protection swimwear, sunglasses, umbrellas and sunscreens for the whole entire family.  Few know that basic cotton t-shirts and cover ups offer little to know sun protection. Coolibar sun hats, protective clothing and swimwear use superbly protective, high-tech fabrics to deliver no less than 50 UPF, 98% blockage, yet keep you cool, comfortable and fashionable.
With these figure flattering swimwear tips and UPF clothing advice, it's now time to get out and enjoy the sun safely and stylishly!