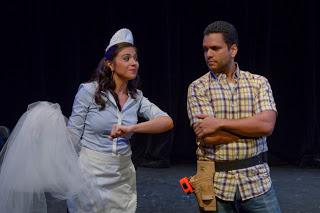 Susanna and Figaro discuss the future
Photo (c) Karen Almond/Morningside Opera
Morningside Opera
is currently performing a run of
¡Figaro! (90210)
, an opera consisting of a rearrangement of Mozart's
Nozze
score to a libretto by Vid Guerreriro, based on Da Ponte's. Guerrerio's vision for the updated plot results in substantial cuts, an addition (fleshing out Cherubino and Barbarina's relationship) and some reordering. Its earnest determination to comment on and satirize the opera's themes of class conflict and exploitation (and friction between genders and between generations) leaves less space than the original for whimsy and for psychological development. The libretto is often clever, and sometimes incisive, especially in Figaro's music (the critique of unbridled capitalism and white privilege in "Aprite un po' quegli occhi" is nothing less than brilliant.) To my mind, however, it was somewhat overladen, making it a little less than the sum of its parts. Still, it's an interesting experiment in what seems to be a growing trend of transladaptation (compare
a Toronto take on Nozze
, or
Peter Brook's truly magical Flute
.) In this performance, the score was arranged for string quintet and piano with surprising success. Music director Raphael Fusco led from the piano, and the phrasing and internal contrast between the instruments were both handled admirably. The cast of singers had good rapport with each other, and turned in a creditable collective performance, with Carlos Monzon a standout as the charismatic Figaro.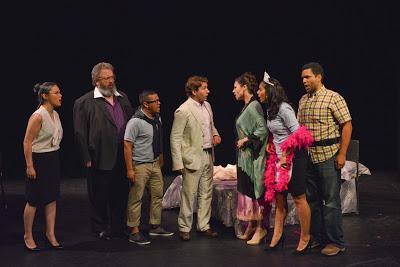 The Count at bay. Photo (c) Karen Almond/Morningside Opera
It would be unnecessarily confusing to explicate all the changes in the cast of characters: suffice it to say that they are reconfigured into a constellation focusing on the estate of Count Almaviva as vulgar L.A. mogul, neglectful father and husband, and off-handed exploiter of his household staff. (The names have been altered, but I'll keep the originals for the sake of clarity.) Susanna's "dowry" here is her visa; it is her illegal status that the Count holds over her head when asking for sexual favors. Guerrerio's libretto is meticulous in stage detail, but director Melissa Crespo organized the cast on a stage almost always empty (the indispensable armchair being a notable exception.) The altered characterizations were gamely entered into by the singers, a fact which I think deserving of special praise since their task was to overcome their own and the audience's knowledge of the Mozart/Da Ponte people to show us something new. This fresh take, I should note, did bring in fresh audiences; a gregarious woman at the interval was absolutely charmed, and asked me if
I
expected it to be so funny.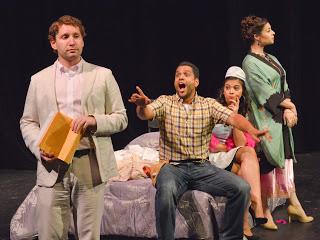 Scheme and counter-scheme
(c) Karen Almond/Morningside Opera
Amy Marie Stewart played Barbarina without flouncing or throwing herself about, which made the teenager's simultaneous frustration and egoism the more credible. I was also impressed with her sweet tone and secure, expressive singing in her aria. Deepak Marwah sang and acted well as a Basilio less skeevy and more flamboyant than usual. As Bartolo, Wilbur Watkin Lewis exhibited a fine buffo presence despite being partially on book. Brittany Fowler was an efficient Marzellina whose characterization deepened after the revelation of her relationship to Figaro. Cherubino's transformation from arrogance to vulnerability in his courtship of Barbarina was unexpectedly touching. "Voi che sapete" has its stanzas separated, appearing first as a plea for sex entirely devoid of eros, and in the last act as a heartfelt serenade. Having a tenor Cherubino, of course, changes the dynamics of the household relationships and the balance of the ensembles. Anthony Chatmon's characterization was fine, as was his phrasing; in keeping with the reimaginging of his part, he crooned a good deal, but he was an audience favorite. Robert Balonek played the Count as a bit of a buffoon. He displayed a warm baritone with fine agility, notably in "Vedrai, mentr'io sospiro." Made a figurehead for all sorts of disagreeable political opinions, this count appeared a very shallow human being. The Contessa, meanwhile, was asked to transform from Thais into La Frugola. While I was disoriented during "Porgi amor,"  
Donata Cucinotta
sang with security and good diction, giving a fine and credible dramatic performance; "Dov'è sono" was allowed to be genuinely touching. Her friendship with the Susanna of Sophia Benedetti was very nicely realized. Benedetti was pert and occasionally impertinent as Susanna, and did well at portraying both her self-assurance and her uncertainties as to how that self would fit in to her new community. Vocally, she did not exhibit the flexibility and nuance to support such a portrayal fully, but it remained an engaging one. Her Figaro,
Carlos Monzon
, gave the standout performance of the evening. Consistently charming, he was vocally as well as dramatically charismatic, exhibiting good diction and phrasing in both English and Spanish. Monzon's Figaro also underwent a touching transformation over the course of the evening, from a machismo-addict with a tendency to confront problems with his fists to a Figaro more readily tender, more fundamentally good-humored, and (of course) irresistibly clever. He sang expressively and strongly throughout, making "¿Quieres bailar? If the boss wants a showdown" and "At last I see things clearly [Aprite un po' quegli occhi]" incisive and fresh... as, of course, they always should be.