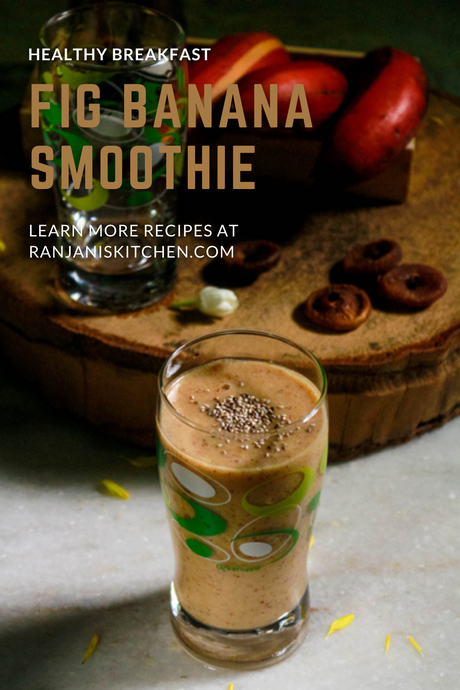 fig banana smoothie | dried fig smoothie is highly nutritious and creamy in texture.we can make this smoothie recipe using dried figs or fresh fig fruit. Figs in tamil as aththi pazham and hindi as anjeer.For vegans, they can replace the milk with coconut milk or almond milk. This dried fig smoothie is a very good breakfast recipe which makes you content and refreshed for a long time.
You can serve smoothies for breakfast or brunch or during snack time also. Addition of flax seeds gives a richer and creamier texture. Also the seeds are loaded with omega3 fatty acids which are most needed for our body. Addition of nuts is completely our choice. We can add depending on availability.
Also we can try smoothies using different fruits and veggies. Most commonly bananas and dates are used for many smoothies which add natural sweetness and also creamier taste.
The milkshake can also be prepared in this way except the addition of flax seeds. So you can also call this recipe a banana anjeer milkshake 🙂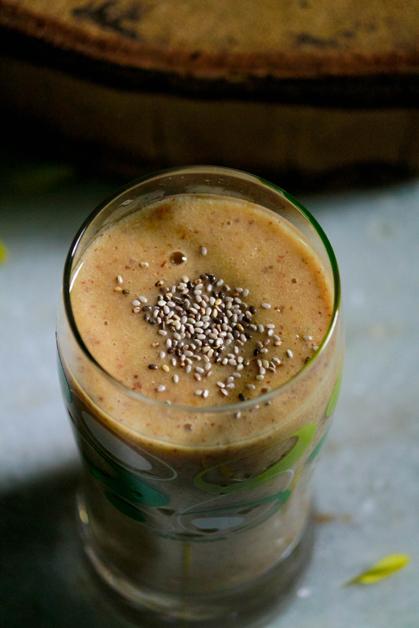 Ingredients used in banana fig smoothie:
Banana - ripened ones are best. Banana is not only nutritious and also acts as natural sweetener. So banana plays a part in any type of smoothies
Dried figs - i didnt get a fresh ones so i opted for dried figs. I used as it is because if it is not grind well and find some titbits i like it that way. If you are ok, soak in water or milk before making smoothie
Flax seeds - which works great along with banana and gives you dense taste and filling.
Honey - good for health and acts as sweetner here.
Milk - chilled milk is added.
Check out ingredients on left side(desktop) and above(expand-mobile/tab) to see measures
What does banana smoothie do to the body?
Banana is rich in fiber which makes you feel full and energetic for long time. It is perfect while you are weight loss journey and gives you complete fuel of energy to do your workouts.
Are bananas good for smoothies?
Yes we can add bananas with any fruits and make smoothie.
What are the healthiest fruits to add in smoothies?
We can make smoothies with any fruit but healthier option are apple, peach, banana, figs, pineapple, mango , any berry varieties and cherries.
Type of banana : Use ripened bananas for smoothies
No fresh figs: If you feel the figs are too dry and it is not grinding well, you can soak the figs in milk for 20 minutes and then grind.
Extra sweet: For additional sweetness you can add jaggery or sugar.
Smoothie recipes :
Video recipe for dried fig smoothie:
How to make fig banana smoothie:
Peel off banana skin and chop into pieces.
In a mixer or blender, add chopped banana, figs, flax seeds , milk and honey.
Blend to smooth.
Pour in glasses and top with chia seeds or sabja seeds or your choice of nuts.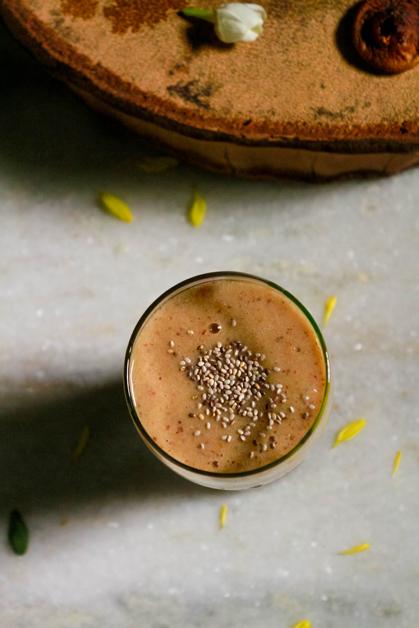 (Visited 6 times, 11 visits today)