by Ashley Lister
There are many different kinds of dogs: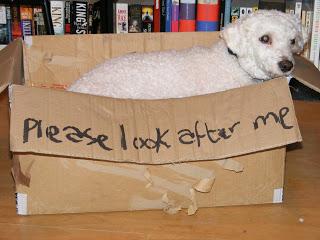 There are smelly dogs, fat belly dogs; scratchy dogs and snatchy dogs; mad dogs, bad dogs, glad dogs and sad dogs; happy dogs, snappy dogs, scrappy dogs and crappy dogs; greedy dogs, seedy dogs, needy dogs and weedy dogs; ball-chasing dogs, ball-catching dogs, ball-licking dogs. Dogs that growl. Dogs that howl. Dogs that look like Simon Cowell. Dogs that piddle on a towel. Dogs that steal. Dogs that feel. Dogs that walk to a master's heel. Pretty dogs. Shitty dogs. Dogs-chased-by-a-kitty dogs. (Pretty shitty dogs). Cuddly dogs. Ugly dogs. Really, eerily fugly dogs. Grey dogs. Gay dogs. Like-to-go-out-and-play dogs. Skinny dogs. Swimmy dogs. Acting-like-a-ninny dogs. Dogs that like noise. Dogs that like boys. Dogs that growl if you touch their toys. Dogs that walk. Dogs that talk. Posh dogs that eat with a knife and fork. Dogs that chase birds. Dogs that eat turds. Dogs that ignore all your spoken words. Dirty dogs. Shirty dogs. Territorially squirty dogs. Mucky dogs. Lucky dogs. Much-too-fond-of-nookie dogs. Like-to-eat-a-cookie dogs. Black dogs. White dogs. Dark dogs. Light dogs. Spotty, stinking, grotty, thinking, barking, larking, playing up in Stanley Park(ing) dogs.
But there is only one type of cat: the cat who is silently plotting to take over the world.