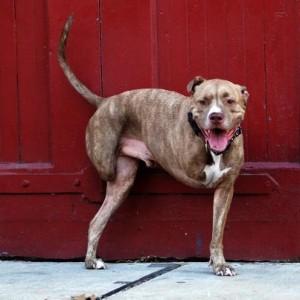 Fifty's story is hard to stomach, but I feel like the more I get it out there the more awareness it brings to the cause. Fifty was shot in 2007 in both of his right limbs by a police officer because of breed discrimination. Fifty was not attacking anyone or causing any trouble. He simply is a pit bull, and this police officer felt the need to shoot him not once, but twice. After going through two amputations the family lost their home in the financial crisis and he was left at the Animal Welfare league's Intake Facility on the Southside of Chicago. This is a high-kill shelter and I know Fifty was saved and pulled into rescue because of all he had already been through. Diane, their shelter manager of 40+ years, is honestly my hero. Every time I'm hugging him I thank her in my head, because he would not be in my arms if she didn't have faith in this two-legged pit bull/mastiff mix with the goofiest smile and the best kisses ever. Doberman Rescue Plus pulled him, fostered him for nine months, and the rest is history.
We've gone through a lot together, the two legs and I. I cringe every time he stumbles, cry every so often when I really get to thinking about what he's been through, and I've even had a man tell me I am cruel for keeping him alive, or even for walking him. But that's about 1% of the time. The other 99% is spent running and playing, cuddling, doing his physical therapy, taking him out to meet people (he loves people more than any dog I have ever met, especially kids!) and just spending all of our time together. He is the best dog ever and truly an ambassador for the breed.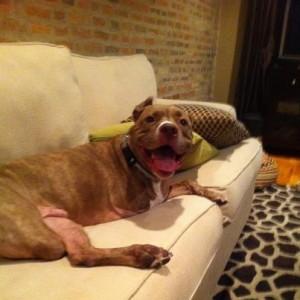 I'm involved with multiple rescue groups in Chicago and volunteer at as many shelters as I can. Every second I get to advocate for not only bully breeds, but shelter dogs in general, I am in my element. I am beyond proud to be a part of something like this and my only wish is that more and more people start to understand how important it is to help these animals and adopt their next pet from a shelter or rescue group. But my heart belongs to the pibbles. As much as I'd like to roll my eyes and sometimes smack people for their ignorance about this breed, I contain myself and educate them instead. I find it very hard to understand how someone can be afraid of a two-legged pit bull who always has a great big smile on his face and runs around like a mad man. Fifty has taught me to always fight for the ones you love, and I will continue to stand up for and represent this misunderstood breed until every last person feels the same way about them as I do.
~ Written by Fifty's mom, Kelly N. Michael, who shares his adventures on Fifty's Facebook page, Fifty the 2-legged pit bull!
Tags: 2-legged pit bull, Fifty, Fifty pit bull