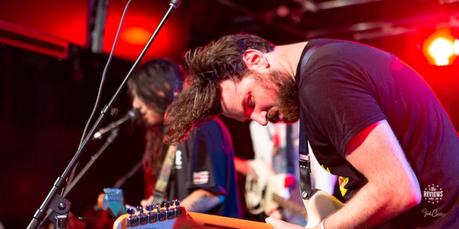 On a surprisingly warm December day, FIDLAR stopped by the 102.1 Edge studios for a Sugar Beach Session.
FIDLAR is a four-piece punk rock band from Los Angeles, California. They're currently signed to Mom + Pop Music in the States and Dine Alone Records in Canada. The band is made up of Max Kuehn on drums, Zac Carper on lead vocals and guitar, Elvis Kuehn also on guitar and vocals, and Brandon Schwartzel on bass. They've been touring worldwide this year, and they've got a brand new album coming in 2019.
Almost Free, comes out on January 25, and to encourage you to order now, they've got a great deal with pre-orders. Fans who order early get an exclusive blue vinyl, an exclusive red flexi 7″, and you can add an exclusive blue t-shirt. The album can be pre-ordered at www.FIDLARmusic.com.
This slideshow requires JavaScript.
The set was loud, energetic, engaging and fast. It was a classic, leave them wanting more moment. After FIDLAR finished playing, they came out to chat with fans. There were smiles all around.
While there was no tour announcement, we're hoping there's one coming soon.