Hey Eric & Sookie Lovers!

Alexander Skarsgard recently sat down with FHM Magazine and had this to say!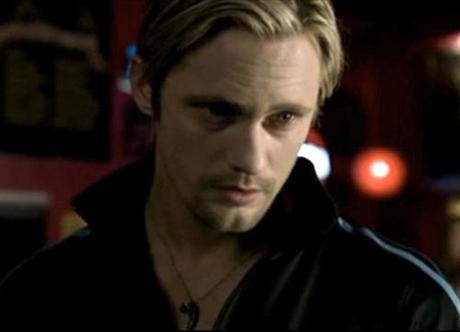 Your character in True Blood, Eric, is pretty cold. What was your inspiration for him?

Well, I was watching this David Attenborough show while I was preparing for season one. It was about lions in Africa, and there was this moment when a huge lion was just chilling, he was so relaxed, and he looked at the camera, and man, he just fucking stared you out. It was so cool because you didn't know if he was going to attack or fall asleep.

He just stared at the camera guy and I was mesmerised. So Eric is supposed to be this powerful old menacing vampire, and I thought it would be cool to play it relaxed. He's so fucking confident he doesn't need to be loud or big or aggressive.

I wanted to recreate the feeling that you didn't know if he's going to rip someone apart or fall asleep.

He's pretty relaxed. Fond of a tracksuit as well, which is unlike most of these la-di-dah vampires…

That's my favourite outfit on the show. When I read the first episode of the second series I thought that it would be good if Eric dressed like an Italian Gangster from New Jersey. In season one there's a lot of dressing up, so I thought it would be fun if when people see him when he's just doing shit in his office, he's just chilling and walking around in a tracksuit. Plus I really like the idea of ripping a guy apart in flip flops.
He goes on to talk about the fans! (That's US!

)
True Blood has some pretty, shall we say, dedicated fans. Ever had any problems?

I don't have a mailbox, and I'm not listed. The fans are devoted yes, it's a serious business for them. But I haven't had any bad experiences. Its just amazing that the fans will fly five thousand miles for an autograph. That says a lot, and it's very, very flattering.

Without the fans, we wouldn't be doing this. You really can't get complacent. You can't get to the stage where you don't have time to stop and sign an autograph.
There's more…a LOT more he had to say, plus there's a video clip of one of his scenes on True Blood! Check it out at their site!
Read the article in full here!
Enjoy!