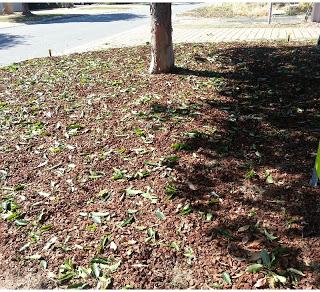 Hello Friday! I hope you are all surviving the silly season with your sanity intact. How crazy is it at the moment? I had to go to the shops yesterday, not a good idea! 
Everytime I've gone out the last few weeks I have been car park stalked. FFS.
Wednesday a woman started following me from the moment I walked out of the shopping center. FFS.
She could see that I had shopping, Chai and the pram to put in the car, but that didn't faze her. FFS.
Then she started getting impatient at how long it took me. FFS.
So I deliberately went even slower. FFS.
For those of you who don't watch it, this week was the last ever episode of Gossip Girl. Hubby and I were really looking forward to watching it (yes, we are sad). Before we'd had a chance to watch it, a very inconsiderate person posted on twitter who Gossip Girl is. FFS.
She didn't give any warning, just wrote 'I can't believe ... is Gossip Girl!' FFS.
FFS woman, if you are going to post a spoiler at least give people warning of it! FFS.
I unfollowed her straight away and stayed off twitter for the rest of the day. FFS.
The house next door was being painted this week. Tuesday the painters set off the smoke alarm and didn't bother turning it off. FFS.
It was going off all day, all night and all Wednesday morning until the turned up and turned the stupid thing off. FFS.
I was going to call the owner to let him know, however I lost his phone number when my phone died a few months ago. FFS.
I'm still discovering a whole pile of phone numbers that I lost when my phone died. FFS.
Wednesday the council came along and kindly trimmed the trees at the front of our house. We've tidied up the front of our house in preparation for selling it, put wood chips out the front and roped it off so that people don't park there. The council workers didn't give a damn about that, broke the wires that were roping it off and even bent one of the steel posts. FFS.
They also left a bloody huge mess of leaves all over the woodchips. FFS.
There is no way I can have it cleaned up before the home open on Saturday. FFS.
I've tried, but as I have Chai with me he thinks it's fun to run onto the road. FFS.
Given a choice of keeping my child alive or selling my house, I choose to keep my child alive. FFS.
Sunday the BIL arrives. FFS.
He's going to be here for ten days. FFS.
Staying with us. FFS.
I am so not looking forward to it. FFS.
Hubby is going to be working all the time, other than the public holidays, so it'll just be me and BIL. FFS.
I'm considering sneaking away in the middle of the night and pretending Chai and I have been kidnapped. FFS.
I'll make a miraculous escape once BIL has gone home. Bloody brilliant idea. Not FFS.
I might even get rich selling my miraculous escape story to the gossip magazines. Not FFS.
If you don't hear from me next week, you'll know what the deal is.