With the publication of Lindsay McKenna's Shadow Warriors books, her new military romance series, I wanted to be able to load my Kindle up with some of her earlier books. So I went in search of the first of her Morgan's Mercenaries books - and of course found that many of them weren't available in digital format. How many of you have had that same thing happen when you really enjoy an author? So frustrating, isn't it?
One work around I found for this issue was the same fabulous resource I mentioned last week, OpenLibrary.org. Quite a few of her early titles are available there to borrow for two weeks, though of course not all of them (not even a high percentage, frankly). And remember these are scans, sometimes pretty rough scans, but if you can put up with the occasional typo (I make enough of them myself), this is a wonderful way to be able to find and read books that may once have been on your bookshelves, if they no longer are.
What then were my other options? Should I go on Amazon or eBay and try to find some of her early paperbacks? I lost quite a few a few moves back - another reason I love digital books that are backed up in the cloud as well as on a few eReaders. I'm glad I hesitated before doing anything, as Lindsay posted the other day on her Facebook account that Harlequin will be reissuing her backlist as digital titles! This is fabulous news for all of us Lindsay McKenna fans. (She's sold 22 million books worldwide and had them translated into 22 languages there are a lot of us!) It's also great news for her works finding new readers too who may only "know" digital books!
Remember that Lindsay is the considered one of the founders of the military romance / suspense genre - and it's said she's known affectionately as "The Top Gun of Women's Military Fiction." So, if like me, you're hooked on this genre and enjoy authors like Maya Banks, Jessica Scott, Cindy Gerard, Dee Davis, Lynn Raye Harris, Cristin Harber, Julie Ann Walker, among many others, you should read (or re-read) Lindsay McKenna's series. I know I plan to beginning next Wednesday, January 15, I'll be searching Amazon for the first of her reissued titles (see list below)!
Bravo, Harlequin! You're continuing diligence in publishing your backlist in digital format is to be greatly admired and I'm sure is expanding the readership of some true jewels in your crown!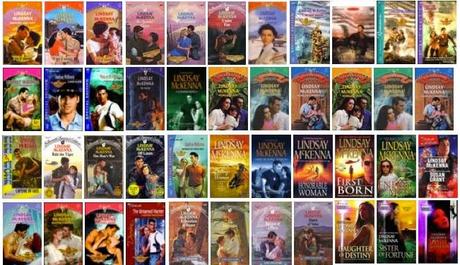 Here's the publication schedule of her backlist that 

Lindsay McKenna shared recently


2014 eBook Release Schedule of Lindsay McKenna's first thirty books written for Harlequin starting in 1983. More information will become available at www.harlequin.com as the publishing eBook dates approach. Many of her other books have already been reissued in digital editions. Check out her author page at Amazon.com for additional information.

January 2014:
Available: 1.15.2014
Captive of Fate (The first romantic military suspense book written for the industry.)
Chase the Clouds
Come Gentle the Dawn
Heart of the Tiger
Love Me Before Dawn
February 2014:
Lindsay McKenna – Historical Collection:
Braveheart
King of Swords
Lord of Shadowhawk
Sun Woman
March 2014:
My Only One
Point of Departure
Texas Wildcat
Too Near the Fire
Touch the Heavens
Wilderness Passion
April 2014:
Moments of Glory series
Ride the Tiger
One Man's War
Off Limits
June 2014:
Men Of Courage trilogy
Shadows & Light
Dangerous Alliance
Count Down
August 2014:
Travis Trilogy Series
Red Tail
Dare to Love
The Right Touch
September 2014:
Kincaid Trilogy Series
Heart of the Eagle
A Measure of Love
Solitaire
October 2014:
Women of Glory series
No Quarter Given
The Gauntlet
Under Fire
Harlequin will also be releasing NEW books in Lindsay McKenna's Shadow Warriors series:
(See my review of book one, Down Range.)
RISK TAKER, February, 2014, Shadow Warriors book #2 (part 1)
DEGREE OF RISK, March, 2014, Shadow Warriors book #3 (part 2)
BREAKING POINT, May 2014, Shadow Warriors book #4 (part 1)
NEVER SURRENDER July 2014, Shadow Warriors book #5 (part 2)
Extras

EXCLUSIVE Interview with Lindsay McKenna & Chief Michael Jaco Part I on FreshFictionTV via YouTube

EXCLUSIVE Interview with Lindsay McKenna & Chief Michael Jaco Part II on FreshFictionTV via YouTube
About the Author
Lindsay McKenna is the pseudonym of award-winning author Eileen Nauman. With more than 100 titles to her credit and approximately 21 million books sold in 22 countries worldwide, Lindsay is one of the most distinguished authors in the women's fiction genre. She is the recipient of many awards, including six RT Book Reviews awards (including best military romance author) and an RT Book Reviews Career Achievement Award. In 1999, foreseeing the emergence of ebooks, she became the first bestselling women's fiction author to exclusively release a new title digitally.
In recognition of her status as one of the originators of the military adventure/romance genre, Lindsay is affectionately known as "The Top Gun of Women's Military Fiction." Lindsay comes by her military knowledge and interest honestly--by continuing a family tradition of serving in the U.S. Navy. Her father, who served on three different destroyers in the Pacific theater during World War II, instilled a strong sense of patriotism and duty in his daughter.
So, upon graduating high school, Lindsay - already a student pilot - continued the family custom by enlisting in the U.S. Navy and serving three years (1964-67) as an AG3 - Aerographer's Mate Third Class (meteorologist).
Since that time Lindsay has kept up her interest in test piloting and training as research for her military romance novels. In pursuit of authenticity, she has undergone high-altitude hyperbaric chamber training at Wright-Patterson Air Force Base in Ohio, flown an Air Force T-38 "chase plane" out of Edwards Air Force Base in California, undertaken two missions (a 12-hour day mission and a five-hour night mission) in an Air Force Strategic Air Command (SAC) B-52 bomber out of K.I. Sawyer Air Force Base in Michigan, flown in a Falcon Coast Guard jet from Coast Guard Miami Air Station in Florida and participated in search-and-rescue helicopter and training missions out of the Coast Guard Port Angeles in Washington.
Naturally, Lindsay's military experience is the backbone of her writing - in addition to being credited with writing the first military romance novel (Captive of Fate, 1983), she has created a thriving subgenre within the romance field. It is, therefore, no surprise that her many experiences in the U.S. Navy are a backdrop for her upcoming Operation: Shadow Warriors series.
Of course, Lindsay's interests don't end with the military. Research for other novels has pushed her into becoming intimately acquainted with other professions that serve the common good. From 1981 to 1983, she served as a volunteer firefighter with the West Point Volunteer Fire Department in Ohio and helped pioneer the role of female firefighters. And from 1996 to 2000, Lindsay was registered as an Emergency Medical Technician-Basic in Arizona--expertise that is reflected in emergency and accident situations in her books.
Lindsay loves to hear from her readers and loves to know what they'd like to see her write next. Visit her website at www.lindsaymckenna.com and blog at www.talesfromechocanyon.blogspot.com.