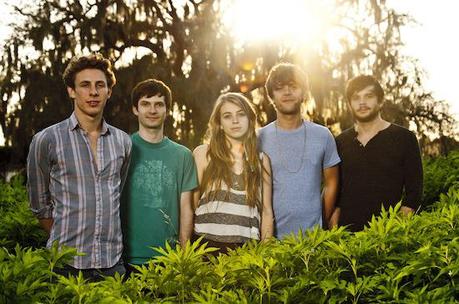 For the past year, GIVERS (@giversmusic) have been über busy touring across continents and promoting their debut LP, released last June, but they've still found time to tweet about their hectic happenings. From posts about which venue they're playing and with whom, to delirious tour rants and pictures to aid as a mini-scrapbook, their Twitter feed is down-to-Earth and entertaining. And, thankfully, their tweets are personal, yet not TMI-inducing, which is a problem I find with a lot of musician Twitterers (er.. Tweeters?)
Among their posts, you'll also find lots of humble praise for other note-worthy musicians, and plenty of love for their support system/fans/comforts of home/life.
GIVERS' Twitter feed is pretty much everything a follower could want in a feed — equal parts informative, witty, insightful, and genuine.
Check out our recent faves and follow them before they hit the road again.
"Thanks to @lablogotheque @canonlogic @TheophilusL @YouTube -that was a seriously magical time last nite. if ya missed it, you can rewatch.."
"http://consequenceofsound.net/2012/03/video-dr-dog-hits-fallon/ Didya see our buds @DrDogMusic play Fallon recently? .. get on it. These guys rawk"
"Transmofidorians -moth humans with small teeth that have the ability to create their own universes while focusing on globalism #vanride"
"Hey we are added to @Hangoutfest, let's hangout."
"http://vimeo.com/38417473 …a lil video fun from the road yesterday (courtesy of @aemaury)"
"Just pet a Koala & slayed crabs wit @portugaltheman–"
"Melbourne sunset http://instagr.am/p/nm1tW/"