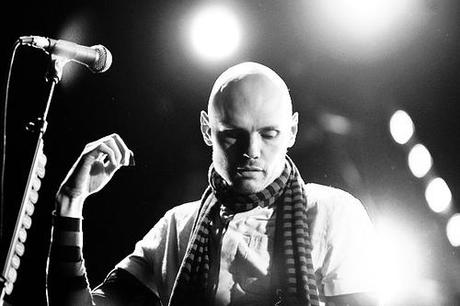 #FF is a weekly series of posts from The Wild Honey Pie where we suggest one music-related person for you to follow on Twitter and tell you why they're so great.
If you're like me, you probably spent a lot of time in middle school (or whatever grade you were in when it was 1996) locked in your room with Mellon Collie and the Infinite Sadness bumping on your boombox…on repeat. Billy Corgan (@billy) was the epitome of cool to a suburban-raised 6th grader who believed darkness and depression were cool. This makes his Twitter stream a little difficult to swallow. While @billy (how did he get secure that handle?) is out touring with the Smashing Pumpkins (he's the only original member still with the band), he fills his stream by praising bands he loves and expressing how grateful he is to be performing again.
Don't get me wrong, it's completely enjoyable, but where is the rageful rat in a cage from my awkward preteen years? Though it seems off character, it's inspiring to know that Corgan is so satisfied with the path his career and music has taken. I just could do without the unnecessary repetition of letters in a single word. You're not a teenage girl @Billy.
"Thank you to our fans in Stockholm! such a beautiful city, always a pleasure to come here to play…off to Osssslllloooowwww…"
"I'm ready to take back my rock and roll. Tired of the revenge of the nerds…"
"A lot of love from here to the tremendous fans in Philly last night, who sent us out in style on our last show of the US tour. Thank you!"
"I'm really excited to hear that Suede has reformed. A great, great band…can't wait to hear their new music."