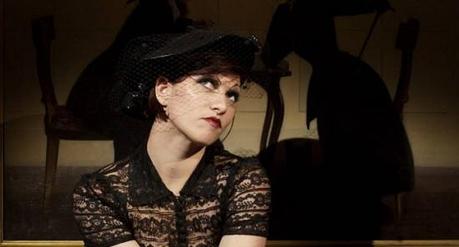 This week, Amanda Palmer (@amandapalmer) became the latest musicians to perform for free at @occupywallst, but she's been occupying our Twitter timelines for some time now. Truly relentless in her stream, she tweets several times every hour. What makes the bombardment bearable, though, is how genuine it appears to be. She tweets about mundane, everyday activities like buying new sneakers, but treats them as though they're major, life-changing events.
Interaction-wise, she's an expert. She replies to individual followers frequently and sometimes even crowd sources ideas for future songwriting. There are a few things to beware of, though. Palmer and her husband, fiction writer Neil Gaiman (@neilhimself – also an enthralling Twitter stream), tweet to each other often, and it's sickeningly sweet. Also, she swears a whole fucking lot.
"floating in HarvardSq wishing this weather was permanent. I just bough a pair of sneakers SO FUCKING UGLY that they're beautiful. magic."
Original tweet: "i need a two syllable cereal with an emphasis on the first syllable. like rice chex. or corn pops. but something better."
Follow-up tweet: "i've tried them all: fruit loops wins hands down. weet bix and grape nuts are close 2nd. i might change it up depending on territory."
"i love that line. RT @Cecilyk Reason #22 I love @AmandaPalmer: a line in a song is 'it doesn't mean sweet fuck all'. *happy*
#FF is a weekly series of posts from The Wild Honey Pie where we suggest one music-related person for you to follow on Twitter and tell you why they're so great.