You may have guessed from my previous blog posts that I'm getting pretty excited about Christmas, and likewise the Tutus Wings and Pretty Things website has gone into Christmas overdrive! It's an exciting time, with more and more of the new Christmas costume range arriving on the website every day, and I've even been asked to create a special festive costume for Santa's little helpers who'll be helping out Father Christmas in his grotto!

I love the tradition of fancy dress at Christmas time – you can't go on an evening out in December without spotting a gang of jolly Santa's and Miss Claus's partying the night away! It was my favorite time of year as a student and I knew that I'd get plenty of wear out of my Christmas fancy dress costume over the festive season – Nights out, work christmas parties, end of term ball – you name it, you can dress up for it!
The new range of festive tutus has landed at www.TutusWingsandPrettyThings.com and these unique fairy skirts can be worn as part of your festive fancy dress and then used in other costumes during the year to really get your money's worth! Here's a few ideas to get you started and see you through the whole year: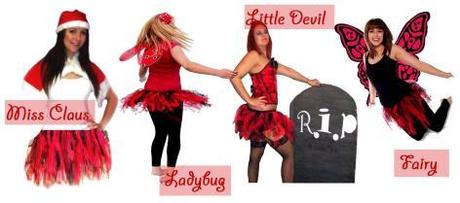 There are loads of new festive tutus available on www.TutusWingsandPrettyThings.com to create your own Xmas costumes for nights out over the Christmas period. Any of the red tutus can be used again as a cheeky cupid valentines day outfit, a little devil Halloween costume or a ladybug skirt for a fancy dress night out.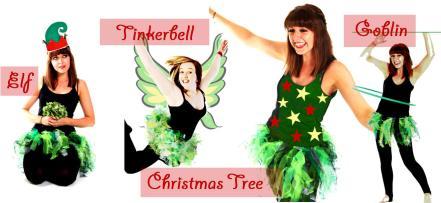 The last date for Christmas delivery on the Tutus, Wings & Pretty Things website is the 16th December this year, so get yours well in advance so that you can enjoy it for the whole festive season! Try any of the unique green tutus on the website to dress up as an elf or a Christmas tree this winter and then wear again to the summer festivals as Tinkerbell and on Halloween as a goblin, witch or Frankenstein.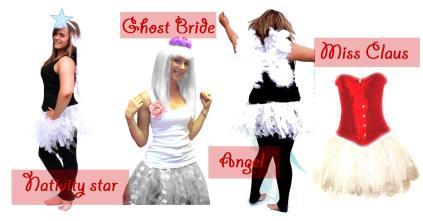 My favorite look is definitely the white tutus and petticoats on the Tutus, Wings and Pretty Things website because I can wear it as an Angel, cute Little Miss Santa Claus or nativity costume for Christmas, and then I can dress up as a ghost bride, wear it for a hen party and pop it on under any party dress during the year as a fluffy petticoat! Check out the website now and let me know what you think!