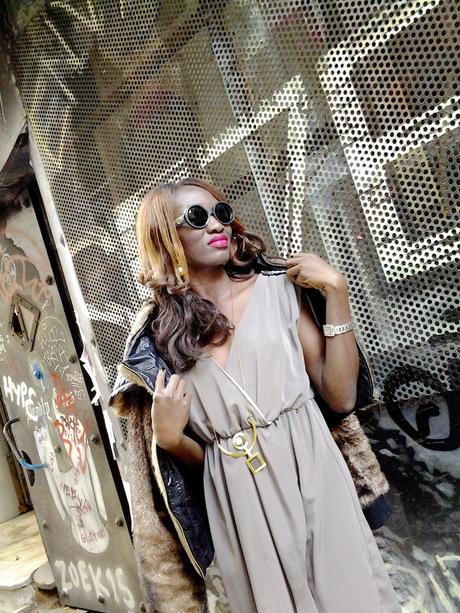 The dress over pants is a trend I am so into lately, it is all over the fashion scene. I find it very stylish and yet practical.
This year Christmas seems to be a lot warmer in Italy and Greeece. The silk dress on top of a gray denim jeans seems perfect for the dinner party outfit.
After  putting up this look that I will suggest for your Chrstmas ever dinner party or even Christmas dinner.
We headed out to shoot in the very old Christmas center of the ages ago glorious Athens pro crisis.
The fact that we both feel awed at the sight of this very old goth club with the very controversial graffiti.
It maked me think about how we all get carried away by the material things of Christmas that we miss the very message of the holiday season.
While taking the pictures, a lot of things were going through my head about how capitalism has turn us all into gullible cosumers. I decided against it and just ant the images to do the talking and you are all very intelligent beings that you probably do not need my anti capitalism lecture.
What will you be wearing to your Christmas parties people?
From my family to yours, have a very merry Christmas!
Wearing: Dress/H&M, Jacket/ Apple Bottom, Sunglasses/ Gucci, Clutch/ Accessorize, Jewels c/o Meet The Cat, Shoes/ Tamaris, Jeans/ Topshop, Watch/ Anne Klein.