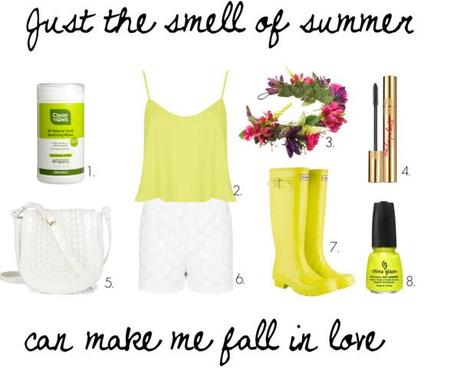 1/2/3/4/5/6/7/8
With the start of Glastonbury yesterday I have been busy dreaming up the different outfits that I would wear if I was actually there right now. Of course, one of the most beautiful things about this activity is that I don't have to be at all realistic, like worrying about the weather or any of those boring things that inevitably will be needed to be taken into account if you are visiting an actual festival.
Yellow has grown into quite an obsession of mine recently, which you can probably tell quite easily from the above photo. I think that it is perfect for summer, brightens up a look (and a tan, always a good thing) and is just such a fun color to wear. The floaty cami over the high-waisted shorts gives a fun, flirty feel to the look without having to bare too much flesh. I also loving the color matching between it, the Hunters and the nail polish.
The textured shorts and bag add a lot of interest to the look, minimising the need for extra accessories that would be a pain to take with you and keep safe. For makeup, I don't think that you want to be wearing a lot, if any, at a festival - so a simple mascara (or the new Yves Saint Laurent one if you happen to have it!) would pull the whole look together.
And how could I leave the look without a floral headband, and some sanitiser for practicality, both festival essentials, non?