Ferrero Rocher Chocolate Cake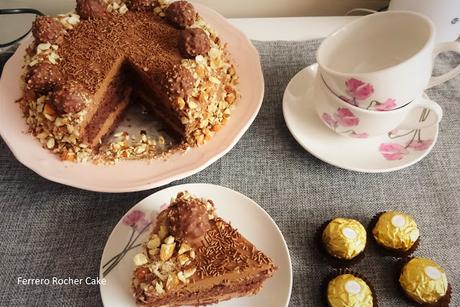 Ferrero Rocher Chocolate Cake
My son who turned 19 this month is a chocoholic and loves ferrero rocher chocolate too. This birthday I surprised him by making a ferrero rocher cake. Two of his favorite things in one cake!:D
The best thing about this ferrero rocher cake is that you don't need to be a professional baker to make it. The icing is fairly simple, you just ice the cake and decorated it with ferrero rocher chocolate. The sides of the cake can be decorated with crushed  almonds, ferrero rocher or hazel nuts whatever you have at hand.
The cake itself not only tastes uberlicious but also looks quite impressive too. The ferrero chocolate has done all the work but the credit goes to you. I would call this sweetly evil! The frosting is also really interesting you just mix some nutella along with butter cream icing spread it on the cake and that's basically your ferrero rocher cake proudy displayed on your tea trolley.
This cake not only adds spark to a birthday party but works great for any occasion. Try it on a high tea party and your guests will surley be impressed.
So follow the step by step photo tutorial and learn how to make easy and delicious ferrero rocher cake at home.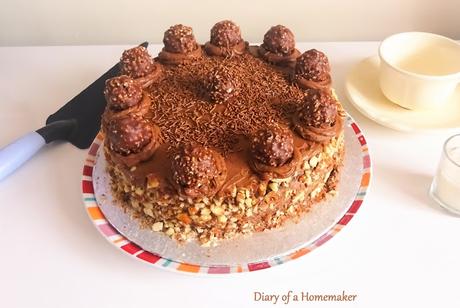 IngredientsQuantity
all purpose flour1 cup
unsweetened cocoa powder1/2 cup
baking powder2 tsp
salta pinch
vegetable oil1 cup
castor sugar1 1/4 cup
eggs 4 whole
butter milk 1 cup
vanilla extract1 tsp
Ingredients For The FrostingQuantity
softened butter1 1/2 cup
nutella1 1/2 cup
icing sugar 1 1/4 cup
 crushed hazel nuts, almonds or ferrero rocher1 cup
ferrero rocher chocolate12
Method:
Sieve the dry ingredients i.e the flour, salt, cocoa powder and baking powder. Set aside.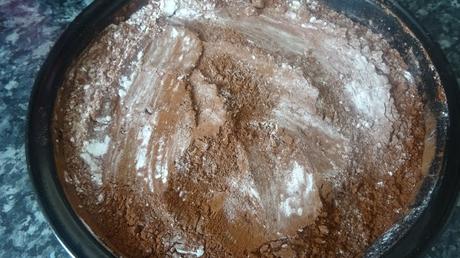 Beat the sugar along with the oil add the eggs one by one. Beating well after each addition.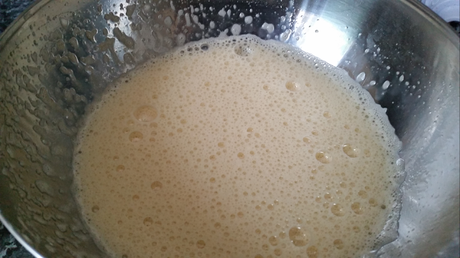 Fold in the dry ingredients and cut and fold into the cake batter.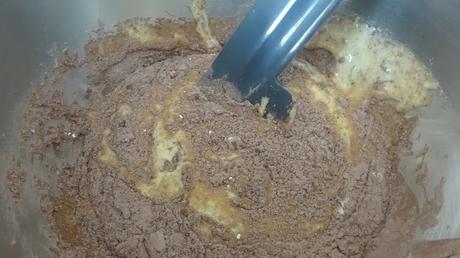 Now add the buttermilk alternating with the dry ingredients. Fold gently.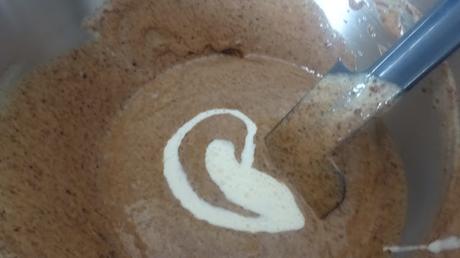 Starting with the dry ingredients and then again ending with the dry ingredients mix until all the buttermilk and dry ingredients have been used in the batter.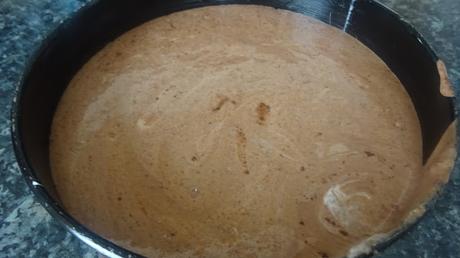 Pour the batter in a 9 inch greased cake tin and bake at 180 degrees. The cake is ready when a skewer inserted into the cake comes out clean. Leave the cake to cool on a wire rack while you prepare the chocolate and nutella frosting.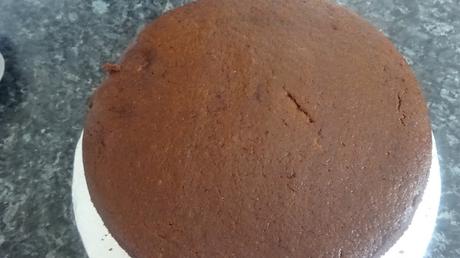 To make the frosting beat the butter with icing sugar beat till smooth and creamy. Mix in the nutella and beat again until the mixture is homogenously mixed together.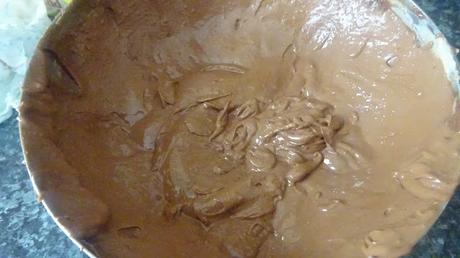 Place a big dallop of froasting on the cake and spread with the help of a palette knife.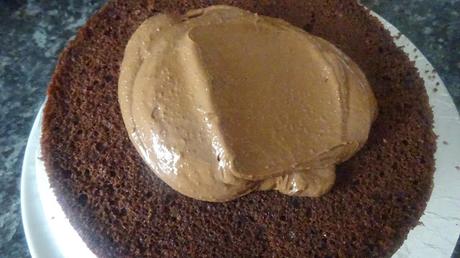 Now sprinkle with some crushed ferrero rocher or hazel nuts.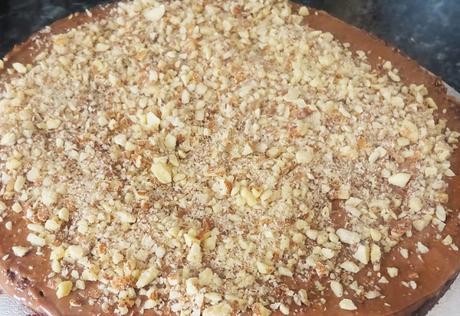 Place the other layer of cake on top and spread with another layer of frosting.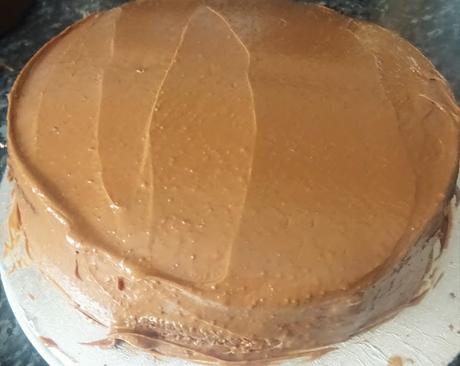 Arrange the ferreo rocher chocolate all around the circumference of the cake. Decorate the sides with crushed hazel nuts, almonds or ferrero rocher chocolate.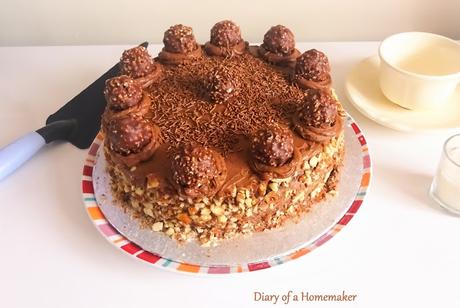 Serve with your favourite tea or coffee.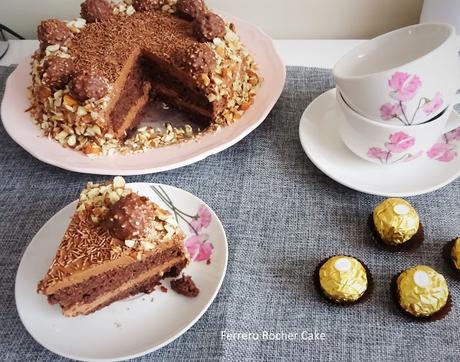 Boun Appetito!