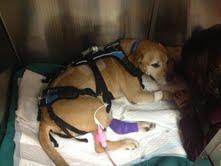 The next few hours felt like days. We paced in our house as we waited to hear whether our sweet boy had survived the surgery we were putting him through. We stared at our phones, attempting to will them to ring with good news. Eventually, the surgeon called. Ferg had made it through the surgery, but he was not out of the woods yet. The surgeon had been forced to remove necrotic tissue from around Ferg's spine in addition to remedying some chronically herniated discs, so Ferg needed to stay in the hospital for a few days for observation and recovery. After three days of visits and rest in the ICU, he was ready to come home. We were not prepared at all for what he had in store for us.
Upon his return home, Ferg had no use of his back legs and no control of his bowels. This was a lot to take on, but we aimed for little victories every day and were inspired by his upbeat attitude and loving acceptance of our help. We learned to use harnesses, became adept at putting on and taking off dog diapers, and received constant support from our friends and family. Days of recovery quickly turned into weeks of recovery, and we fought hard to not become disappointed by Ferg's persistent inability to walk or even stand. We focused on little successes, whether that meant cheering his first tail wag, exercising his legs for him to fend off atrophy, or giving him bubble baths to help keep him clean until his bowel control returned. Our meetings with the surgeon were filled with discussions of how Ferg was not recovering nearly as fast as expected, but the prognosis remained positive, albeit delayed. He wasn't going to be walking as soon as we had hoped, but we were told his right leg would make a full recovery and his left leg would at least become functional again.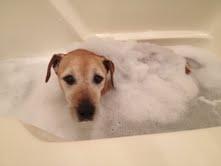 To help our sweet pup, we turned our attention to physical therapy. If that was what our beloved boy needed to get his legs back, then that was what we would give him. His kind heart and sweet smile had never wavered during this whole ordeal, and we weren't going to let our support waver, either. We met with the physical therapists, discussed a course of action, and set forth on the next chapter in Ferg's journey. This meant adding a cart and an inflatable peanut to our home so that Ferg could have some mobility outside and some support while he learned to stand again. We adjusted our expectations for his recovery timetable and continued to believe that he would eventually walk again.
Since then, Ferg has become a favorite among the physical therapists and seems to love the time he spends there exercising, getting acupuncture, using the underwater treadmill, and happily taking on a host of other activities. Unfortunately, though, it appears not to have been enough. We have been working for nearly two months toward the goal of helping Ferg get back on his feet, but we recently received some devastating news from the surgeon. After evaluating Ferguson's progress again, he told us that there is now only about a 10% chance that our pup will ever walk again.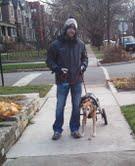 Ferguson using his cart, with owner Noah
Needless to say, we were initially heartbroken. So many people had cheered Ferg on his road to recovery. Family and friends had given so much to help us and our little boy during this ordeal. And now we were told he would likely never even stand up again on his own. We were devastated, we were angry, and we were profoundly saddened. But then we looked at Ferg. All he had ever wanted was a warm bed, toys to play with, and love. All of those things we can still provide him, and so that is what we intend to do. His legs may no longer work, but his infectious smile and devoted eyes remain unchanged. His refusal to be defeated or depressed by the hand he has been dealt is inspiring, and so we consider ourselves blessed to have the opportunity to accompany him on the next chapter of his amazing journey. I have no doubt he'll teach us a few more lessons about love, devotion, and what's truly important along the way.
~ Written by Ferguson's owner, Noah Lauricella
Tags: dog human bond, personal story