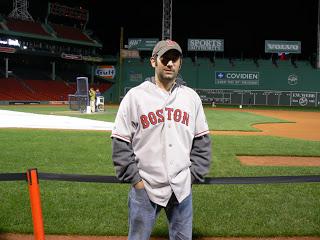 My buddy Jere of A Red Sox Fan From Pinstripe Territory recently did something I have dreamed of: he took batting practice at Fenway. (I walked on the field at Fenway before a game in 2008 and thought that was one of the highlights of my life.)
The Sox rewarded season ticket holders after the regular season ended by allowing them to come to Fenway and take a tour of the building and take some swings in the cage. Lucky stiff.
Jere (above) posted some really cool pictures of his day at Fenway. Check them out here, and here.
And speaking of America's Most Beloved Ballpark, it is featured on a cool web site called "Stadium Journey", which puts up reviews of all different ballparks from all sports around the country. Here is the one from Fenway Park.
By the way, did any of notice the knucklehead fan in Washington on Wednesday who threw back Pete Kozma's home run? It was an historic one, as it was the first round-tripper hit in DC since 1933. I wonder what some fans use for brains, as they'd rather have three seconds of cheering throwing a ball back than keep a part of history.
And I'm glad Fenway Park bars that kind of thing the Bleacher Bums started many years ago.