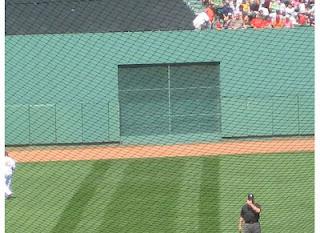 The Red Sox split the four games series with the Indians this weekend in Cleveland. On Saturday, a dreary 5-2 loss, and on Sunday, a 14-1 win, which included an eight-run fifth inning, and Jon Lester's first victory in six weeks.
On Saturday, I had the pleasure of being at the Bleacher Bar, which is located on Lansdowne Street, right at Fenway. The grated window in center field is where the bar is located (pictured).
My good friend and Governor of Red Sox Nation, Chris Wertz, had his birthday at the bar, and it was a surprise party as well. Chris was very surprised. And we all had a great time at the bar.
The center field window was open, but unfortunately, the Fenway employees were setting up the stage for Bruce Springsteen's concerts at the Fens on Tuesday and Wednesday right there, so we couldn't get a good view of the park.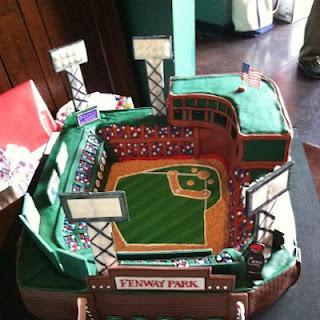 But Chris had an amazing birthday cake.
We all agreed it was a shame we had to eat the Fenway Birthday cake. But it did taste good. (A friend asked me what section I ate from. I think it was from the press box.)