Apologies if you're getting served up an overdo of moggy blogs this week. The idea to run with the theme of
animation
came after several Dead Good Poets attended a workshop coinciding with artist Mark Leckey's 'Kolossal Kat' exhibition in Blackpool, featuring a giant inflatable Felix and various other artefacts inspired by Leckey's love of the cartoon cat.
Felix pretty much passed me by as a kid, so this has been a fascinating voyage of discovery into the murky past of the daddy of all kitties. I like the version that roots Felix in the work of Australian cartoonist Pat Sullivan, who first devised the black and white feline in 1917 for his animated short film
The Tail Of Thomas Kat
(who lost his tail in a fight with a rooster). Master Tom appeared next in
Feline Follies
, another short cartoon film made in 1919 for Paramount Films in Sullivan's animation studio in New York, with Otto Messmer as chief animator. The appeal of the Tom cat character led to a demand for more short films and saw their star (for both Sullivan and Messmer claim birthing rights) remodeled as Felix - according to Sullivan, in affectionate homage to his home state of Victoria, named Australia Felix by the early antipodean explorer Thomas Mitchell.
Felix being Latin for fortunate and not dissimilar from Felis Catus, the Latin for (domestic) cat, it looked to be an intuitive master stroke of branding, a simple but bold amalgam of lines and emotions - Felix the laughing cat with the magical tail; (oh yes, his doesn't get lost).
Messmer's protégé Joe Oriolo was entrusted with drawing Felix for decades and then his son Don Oriolo carried on the tradition. In the hands of just those four animators, Felix has now been entertaining children of all ages for the best part of a century on film, on television, in comics and newspapers around the world. He continues to do so today - and I've still never seen a Felix cartoon or comic strip!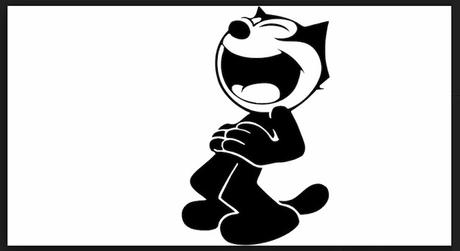 The Joy of Felix
What need of words?
Yours is a triumph of the visual,
the power of Miaow.
You are animated,
replicated, syndicated,
truly iconic;
more recognisable than Jesus,
more magical than Krishna,
smugger than the Buddha!
You are Everycat,
happy-go-luckily
nine-life-jiving
your cartoon swagger,
spreading curious mischief
with a wave of your tail.
Swish and grin, Felix,
swish and grin.
Thanks for reading, S ;-)
Email This
BlogThis!
Share to Twitter
Share to Facebook
Reactions: