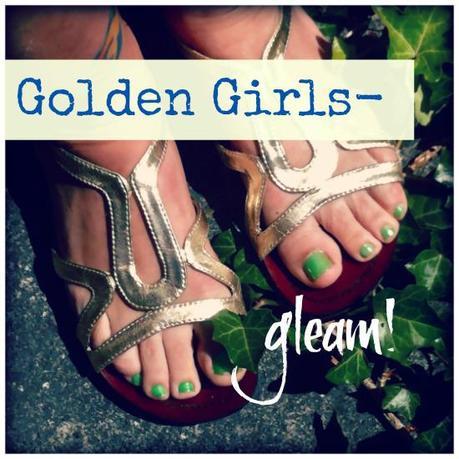 What is it about shiny gold shoes?

 
I've been fond of them since high school (which was back before the days of Zeus + Mt. Olympus, and cell phones) where I learned of the invisible fine line on wearing bright gold shoes- somehow your shiny hooves can veer from "goddess slippers," and slide into the gaudy category of "hooker shoes."  Gold shoes have 2 flavors: high class or just crass. I owned two pairs of gold shoes: Espirit gold leather ballet slippers which rang regal when worn with just about anything, and a cheap brand of strappy gold stilettos.
Gold lame on tottering heels, I learned at age 17, when worn with anything flouncy or flirty (including the magenta jersey knit V-neck dress your mom stay up late night sewing) could come off as "trampy." At least according to three classmates, one History teacher, and a frowning high school principal. As one admonisher put it, I looked less "Saks Fifth Avenue", and more "Frederick's of Hollywood." In the big scheme of things, I learned that to feel golden, looking demure was preferred to shiny streetwalker winsome.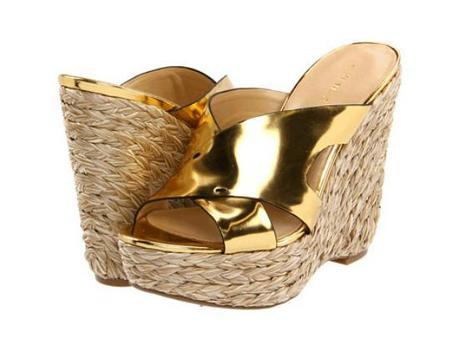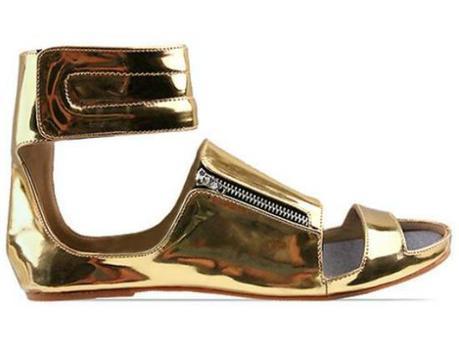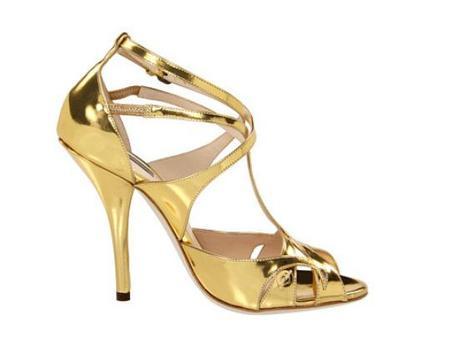 Goddess, or strumpet? (Golden)Eye of the beholder, I suppose.

This season you'll be seeing a renaissance of shiny shoes, all sorts of metallics, from brazen bronze, mercurial silvers to glorious, glittering golds. I for one, am loving this return to the gilded age. I'm especially drawn to bright gold sandals  that gleam in the form of mirrored metallics. This mirrored metallic sheen adds a post-modern kick of fantasy, and if worn with the right outfit, can convert us mere mortals into emperial goddesses. To get a look that's more celestial flyer than streetwalker, look for mirrored leather with streamlined straps and minimal embellishments. Let the focus fall on the clean lines, and classic details.  The best finds are made up from an alchemist's brew of past, present + future, mixed equal parts sophisticate style, and comfort. 




In Order of Appearance: 

Nine West, Make Nice, ZapposGold Dot, Emi Sandals, SolestruckBottega Veneta, 298125VP360 8417, ZapposJimmy Choo, Mirrored Leather + Cork Wedges, Saks