I had every intention of posting my April calender today, but... I haven't even made it yet. I think, after working on the blog redesign, the creative portion of my brain is sort of exhausted and needs a break. I've spent the last three evenings just sitting in front of photoshop and my notepad with a pencil in my hand... and coming up with nothing. Maybe a nap and a trip to the thrift store today will air out my brain enough!
What I do have is another Feeding Littles post for you - this time with our family's favorite banana bread recipe! This bread is nice and moist, a little sweet, a lot fruity, and jam-packed with goodies for your babes' growing bodies. I tend to go overboard when I make this bread, throwing in every good thing I can find. Sometimes I throw a few heaping tablespoons-full of rice protein in there too, but how many people (besides bodybuilders and some pregnant women) actually have a huge tub of rice protein laying around? So I've pared it down to items you're a little more likely to have in your homes - or at least items you'd have more use for in other recipes, if you were to buy them.
[By the way, rice protein's awesome in fruit-and-greek-yogurt smoothies, you pregnant and nursing moms out there!]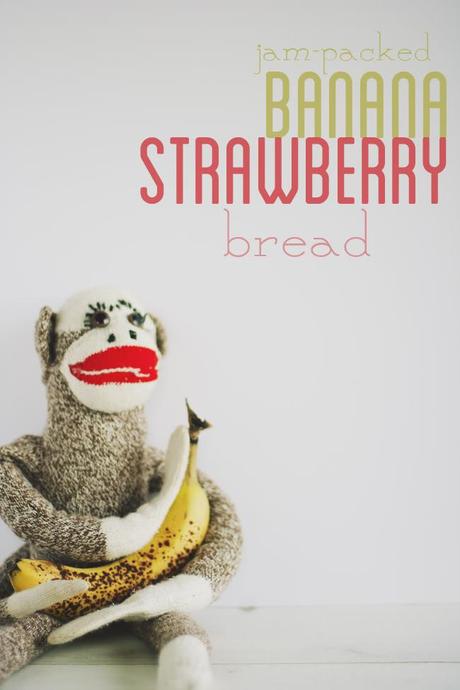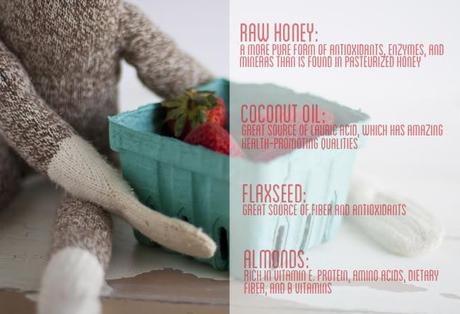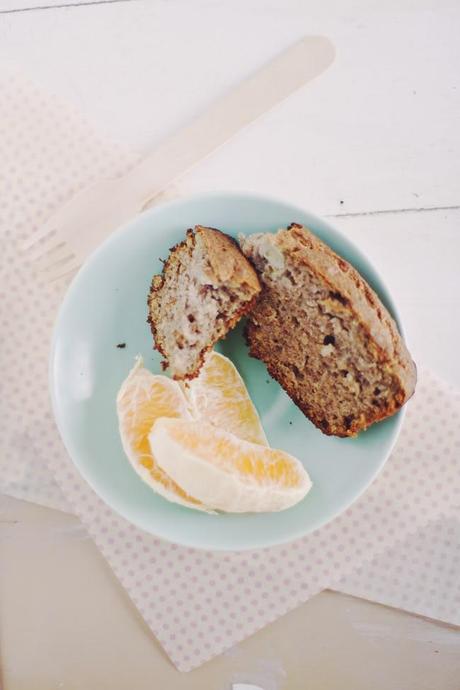 Ingredients:
3/4 C. wheat flour
1/2 C. all-purpose flour
1/2 tsp. baking soda
1/4 tsp. baking powder
1/2 tsp. salt
2 heaping tbsp. milled flaxseed
1/4 C. raw honey (again, not recommended that children under 12 mos. consume honey)
1/4 C. coconut oil
2 lg. eggs
3 large, over-ripe bananas
1 1/2 C. strawberries
1/4 C. almonds, chopped as finely as you can get them
1/2 tsp. vanilla extract
Preheat your oven to 350

˚
Combine the banana and strawberries in the bowl of a food processor, puree well, and set aside.
In a large bowl, combine flours, baking soda, baking powder, salt, and milled flaxseed. Stir until well combined.
In a medium bowl, combine honey and coconut oil, whisking until combined. Add the eggs one at a time, beating each one until combined. Add the pureed fruit, almonds, and vanilla extract, stirring with a large wooden spoon until combined.
Using a large spatula, scrape the fruit mixture into the flour mixture and stir with the wooden spoon until combined. Scrape the batter into a greased 5"x9" loaf pan.
Bake in your preheated oven for about 55 minutes - or until the loaf is golden brown with a few large cracks on the top, and a knife inserted in the center comes out clean. Allow loaf to cool before you try to pry it out. Once cooled, run a knife between the pan and the loaf to loosen it. 
Can be served while warm, or sliced and stored in a ziplock bag in the fridge for quick lunches for the rest of the week!

P.S. Have you "liked" Of Anselm yet on Facebook? Those sorts of things always make me so happy :)