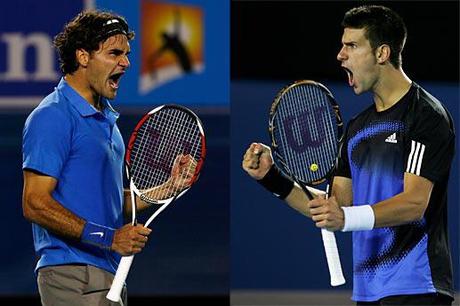 Djokovic beats Federer 6-7 4-6 6-3 6-2 7-5
This was a simply stunning match. For the first two sets, Federer was at his majestic best. The forehand was in full flow, and his backhand was as good as I've ever seen it. So often when returning serve, or indeed any shot with some power behind it, Federer slices the backhand, but in this match, he was striking it so cleanly, which gave him the confidence to return aggressively, and go down the line more than ever before. Conversely, Djokovic looked extremely flat, continuing the slow starts he put in against Dolgopolov and Tipsarevic in his two previous matches. I always judge Djokovic's mood by his down the line shots. When everything is not quite flowing, he will hit the shot conservatively, at an angle whereby the ball is heading slightly crosscourt, and so lands well inside the line. When he is in a buoyant mood, he will be going as close to the line as possible. The first two sets saw the former, with Federer taking full advantage. However for whatever reason, Djokovic woke up, and at that point, Federer started to miss fire. The 3rd and 4th sets went Djokovic's way very quickly, with Federer deciding it was time to start playing again in the 5th.
From here the match was a slug out. Brutal rallies were played out, resulting in some breathtaking tennis. A few years ago, one thing I enjoyed about women's tennis was the fact that they would just smack the ball as hard as they could at each other until someone gave in, providing us with incredibly intense rallies. The men's game, with the increased use of topspin, was more about maneuvering the opponent around before making the final strike. It's what Federer did so well, and what allowed him to dominate. However we are truly blessed to have 3.5 players (Murray doesn't quite count) who have the power and technique to participate in these brutal exchanges, and the speed to make them last longer, giving us a level of play which is light-years ahead of the women's game. Outside the top 4, no one can keep up this level of intensity. Verdasco has the forehand for is, Gasquet has the backhand for it, but no one else has that entire package.
This was the type of tennis we were treated to in the 5th, and Federer slightly had the upper hand, his shot-making ability just about surpassing Djokovic's grinding, so much so that at double match point down, the Serbian went for the hail Mary. Djokovic went for the type of return that he would only make 5 out of 10 times in practice. He went for broke and it paid off. This was the one shot which changed the match. He then played up to the crowd before the next match point, further suggesting that he was resigned to a loss, but Federer screwed up the point, and from then on, was off his game, allowing Djokovic to complete one of the most amazing come backs I've ever seen.
The nature of Federer's demise was fascinating. He was absolutely in control until that first match point. Something about that Djokovic return completely put him off. From that point, his forehand, which had been so on-point during the final set, began to err. What was it about Djokovic's shot, and the attitude which lead to it which was so off-putting? When Djokovic went double match point down, he was nodding and smiling. When I first saw it, I thought it was a gesture as if to say 'Roger's played too well, he's got me again' (thinking back the the French Open, his only actual loss of the year), but in retrospect, the thought may have been 'Now it's time to do the business'. Maybe it wasn't the shot, but Djokovic's reaction afterwards. He gestured to the crowd, playing the Djoker for what may have been the last time, a sign to Federer that he had given up hope, and stopped concentrating. Maybe this in turn caused Federer to lose concentration, and ultimately cost him. Either Djokovic played a very sneaky game, or he had genuinely given up. The latter is fascinating to consider. It's an attitude which Nadal would never dream of, but obviously one which worked for Djokovic. Have a look at the video below and see what you think.
Overall it was a great semi (lol), and showed how much Djokovic has come on in his mentality. Despite the fact that he took part in one of the best matches I've ever seen in last year's US Open final with Nadal, Djokovic is still have to work to gain the crowd's respect at Flushing Meadows, shown by the overwhelming support Federer received. However, where Djokovic would have been frustrated in the past, he was resolute, and strove to force the crowd to like him. He was excellent in his post match interview, and will go into the final on a high. Federer however will be kicking himself. Having repeated what he did at the same stage last year, and at Wimbledon this year in losing from two sets up, he will really question himself. He doesn't care about Master's Series events, nor particularly about world rankings, with the number 1 spot out of reach. He only wants more grand slams, and the fact that this is the first year since 2002 that he hasn't win one will be a tough reality for him. But I hope he recovers, because having these four in the semis of Grand Slams really is a blessing. 
That shot: