Not that we really expected anything spectacular but the lack of anything positive is a negative the way these markets are heading.  The FOMC takes note of a contrast between more favorable indicators on the consumer side and weaker activity in the business sector. The committee's business community contacts indicated an "uncertain outlook" for government spending, taxes, and regulation – essentially the Fed is as worried about the Fiscal Cliff as everyone else is.
Policymakers largely deemed the Fed's September decision to begin buying $40Bn of mortgage-backed securities each month as effective in lowering long-term interest rates, in turn helping to support spending and a recovering housing market. Several Fed officials thought the benefits of the bond-buying were likely to grow over time.  "Looking ahead, a number of participants indicated that additional asset purchases would likely be appropriate next year after the conclusion of the maturity extension program in order to achieve a substantial improvement in the labor market," the minutes stated. "Operation Twist," in which the Fed has been buying about $45 billion of long-term Treasury securities using the proceeds of selling short-term Treasurys, is due to expire in December.  Bernanke has said the Central Bank would review all of its asset purchases at its final policy meeting of the year on Dec. 11-12 – so more uncertainty until then.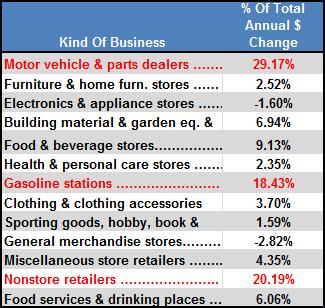 What we are certain about is that, coming on the heels of yesterday's disappointing Retail Sales Report, WMT released very weak numbers with comp store sales up just 1.5% for the quarter while expenses climbed 2.5% and the World's #1 Retailer (accounting for 10% of all US sales) MISSED on top-line revenues by $1.8Bn out of $113.2Bn.
Not exactly a confidence-booster to reverse a down-trending market, is it?  WMT, a Dow component, is down 3% in pre-market trading while TGT, who were in-line with their earnings report, is trading flat on a 2.9% increase in comp-store sales and uninspiring guidance.  
As noted by Doug Short: Even if we go with the "Sandy impacted retail sales" argument – the Hurricane excuse doesn't really justify that the gross gain in retail sales nationwide over the last year was only $20.42 billion (not seasonally adjusted). Of the $20.42 billion in sales the major category percentage contribution is shown in the adjacent table.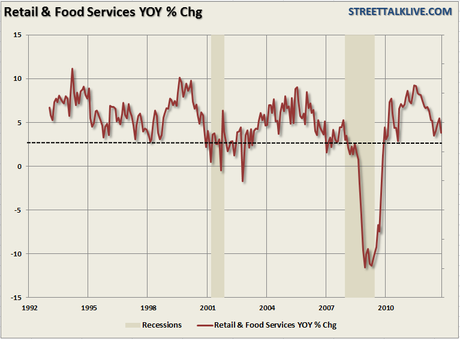 Importantly, over…
This article will become free after 48 hours (see below for free content). To read the rest of this article now, along with Phil's live intra-day comments, live trading ideas, Phil's market calls, additional member comments, and other members-only features -
Subscribe to Phil's Stock World by clicking here
.