Queen Victoria is believed to have started the tradition of the white wedding gown.  She was married to Prince Albert on February 10, 1840 in the Chapel Royal of St. James Place.  While reading articles on her wedding, I thought of the perfect theme for February nuptials -

Timeless Beauty!


Prior to Queen Victoria's white wedding, usually only poor brides wore white.  This was a statement that she brought nothing to the marriage.  It also was not unusual for a bride to wear a brown or light green dress; or even their Sunday best, as their wedding gown.  Early Victorian era dresses following the tradition of the Queen's white were made of organdy, tulle, lace, gauze, silk, linen or cashmere.  Bridesmaids also wore white and veils attached to a crown of flowers.  Typically the bride wore orange blossoms and the attendants wore roses.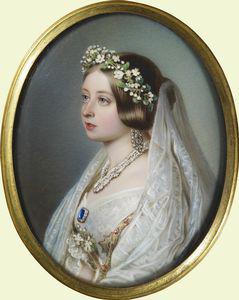 Photo credit: royalcollection.org.uk
Painting by Franz Xaver Winterhalter of Queen Victoria in her wedding dress
Another tradition started by Queen Victoria was using myrtle in bouquets.  Prince Albert's grandmother gave a bouquet containing myrtle to Queen Victoria during a visit.  The Queen then planted some of the myrtle in her garden - where it still grows today!  The Queens daughter, Princess Victoria, was the first bride to carry myrtle in her bridal bouquet.  Every royal bride since has carried myrtle from Queen Victoria's garden in their own bouquets. 
If you can't tell - I am fascinated by royal weddings!  Especially since there is so much history behind them. I used Queen Victoria and her era as my inspiration when coming up with a theme for this month. During the Victorian era flowers were an important part of society - they even had their own flower language  Small handheld nosegays were very popular during this time.  For a Timeless Beauty wedding; I am envisioning small bouquets of ivory and chocolate roses.  All the colors of the wedding party and decorations should compliment this theme; in various shades of ivory, chocolate and gold. 
Unfortunately, I have had a lot on my plate and was not able to make my own vision for a bridal bouquet to go with my theme.  However, I was able to find a picture on the internet that coincides with my vision!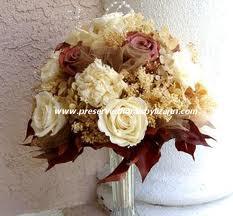 photo from preservedfloralsbylizann.com
This bouquet would be just lovely for a Timeless Beauty themed wedding!!!  Ivory and brown can be extremely elegant when done properly.  Add in some lace and it gives the entire wedding a vintage feel.  Don't be afraid to get as unique as you want with your wedding!  This is your time to shine!  :)